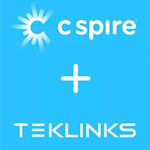 Regional carrier C Spire has acquired TekLinks, a reseller and provider of cloud, managed and professional services in Alabama, Mississippi and Tennessee. Details of the C Spire TekLinks deal were not disclosed, but the companies said that during the next 60 to 90 days the deal will close and the acquisition and merger integration process will occur.
TekLinks has eight offices in fast-growing markets including Birmingham and Huntsville, AL and Nashville TN. In 2016 TekLinks bought Nashville-based Guidant Partners, a managed services firm. The previous year, it acquired Claris Networks, a cloud services firm that was based in Knoxville, TN. In 2013, TekLinks merged with healthcare managed services provider ClinicAnywhere, which formerly was ETG. C Spire's acquisition comes as it continues a project started last fall. It is providing 1 Gbps fiber-based Internet access to as many as 250,000 small- and medium-size businesses in Mississippi.
C Spire TekLinks Deal
"In pursuing this transaction, it quickly became evident that the two companies were very much aligned in terms of team culture and strategic focus. I am incredibly excited about the future of the combined teams," said TekLinks CEO Jim Akerhielm.
TekLinks President Don Monistere will join C Spire as General Manager of Business Solutions.
It's been an active 2018 for C Spire. Earlier this month, it introduced a public data priority service to support local and state emergency first responders. The free service operates on the provider's LTE Network.
In February, C Spire tested 5G fixed wireless technology at its Ridgeland, MS, headquarters. FCC Commissioner Brendan Carr was in attendance.
In the second of three February announcements, C Spire partnered with Entergy Mississippi to provide more than 300 miles of fiber to remote areas of the state. C Spire agreed to build and own the network and Entergy to contribute construction costs.
The third February announcement was that C Spire Business said that it is deepening its relationship with Microsoft and offering cloud-based Microsoft Office 365 productivity and collaboration tools.