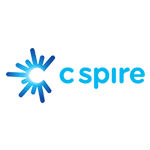 A new C Spire 5G fixed wireless service is being offered in select markets throughout the regional carrier's Mississippi footprint.  While C Spire brands the service 5G, like other wireless carriers rushing to grab the 5G crown, this service does not use actual 3GPP 5G standards.
This fixed wireless service is priced at $50/month and offers up to 120 Mbps service, a C Spire 5G website notes. A C Spire spokesman tells Telecompetitor the service consistently offers 100+ Mbps downstream, with 50 Mbps upstream.
Residents must install a "dinner plate" sized antenna on their home to receive the service. There's no contract required and C Spire does not have any bandwidth caps for the service. The service is using sub-6 Ghz and 60 GHz spectrum, using Mimosa and Siklu gear.
C Spire is using an 802.11 variant for this "5G" service but will continue to study 5G 3GPP standards and intends to move in that direction when it makes sense, the spokesman said. Other carriers, including RedZone, and even AT&T, have begun using the term 5G for product and marketing purposes, despite not adhering to the emerging 5G standard.
The new C Spire offering currently is available in about ten markets, but the company is actively building in dozens more, the spokesman tells Telecompetitor.
"We can scale it pretty quickly," said the C Spire spokesman. "It's really important we get a solution out there that people can use."
C Spire is quite active on the fixed wireless and wireline broadband front. They previously announced a fixed wireless initiative that will eventually reach over 90K locations. This new C Spire 5G approach will coexist with the broader fixed wireless initiative, the C Spire spokesman confirmed.
"It's a big deal for consumers and businesses in Mississippi," said the spokesman. "We're really serious about massive deployment of broadband in our footprint."