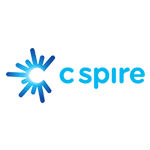 C Spire's preparation for 5G is paying a more immediate dividend: The company reports a 15% to 20% increase in mobile broadband speeds due to deployment of additional base stations and software.
The company has spent 2019 upgrading its more than 1,200 cell sites. Alan Jones, C Spire's senior vice president of Access and Deployment, said in a press release that the company is well positioned with low, mid and high-band spectrum. This diversity will be an asset as 5G is deployed. 
"We're using carrier aggregation technology, which brings together spectrum from multiple frequency bands for improved speed and spectral efficiency, and other software and hardware improvements to achieve better speeds and pave the way for Voice over LTE or high-definition mobile voice service," Jones said.
The base stations that are being deployed both add bandwidth and coverage and, at the same time, create an infrastructure capable of supporting next-generation networks, software-defined services, and the IoT.
The press release mentions the C Spire Tech Movement, which aims to "build a better future through technology, education and innovation." In January, C Spire entered into a consortium with Airspan Networks, Microsoft, Nokia and Siklu to test and deploy technologies and business models that can be used by regional fixed and wireless ISPs, utilities and others in order to improve broadband in rural areas.
When the partnership was announced, C Spire Chief Innovation Officer Craig Sparks told Telecompetitor that the strategies will vary between communities and that it is possible that entities that don't generally get involved in broadband deployment, such as electricians or general contractors, will play a role in last mile construction. Sparks also said that he sees the 60MHz band playing a role in fixed broadband to rural areas. This goes a bit against the common wisdom, which sees 60MHz as more of a suburban platform.