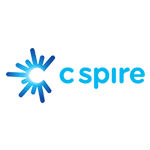 C Spire plans to test new 5G fixed wireless technology at their Ridgeland, Miss. headquarters tomorrow, with FCC Commissioner Brendan Carr in attendance. The C Spire 5G fixed wireless test will feature patented technology from Santa Clara, Calif.-based Cohere Technologies.
Cohere's turboConnect fixed wireless access platform uses orthogonal time frequency and space (OTFS) wireless modulation technology. The test will use 3.65 GHz spectrum that is well below the mmWave frequencies that is used by many 5G approaches. The lower frequency has propagation characteristics that provide better coverage inside structures and in rural areas.
C Spire noted in a press release that it also continues to test spectrum in the 28 GHz and 60 GHz ranges for use in 5G technology.
Carr and C Spire are expected to discuss streamlining of permitting across all levels of government and efficient spectrum policy. Those issues are important in efforts to accelerate the deployment of 5G technology. The test will be followed by a tour of a wireless Internet trial site in Pelahatchie,Miss., C Spire outlines in the press release.
Growing Fixed Wireless Interest
The fixed wireless sector is growing as LTE and unlicensed wireless technology evolves and 5G comes on line. The driver is that these platforms are approaching (and maybe even exceeding in some cases) equivalency with wired networks and can be deployed at lower costs. Mobile Experts says that fixed wireless will generate almost $20 billion in equipment revenue from base station access points and customer premises equipment during the next six years.
C Spire itself is investing significantly in fixed wireless technology. The regional wireless and fixed broadband provider announced in the Fall of 2017 a fixed wireless plan that will eventually reach 200K subscribers across Mississippi.
At their announcement, C Spire positioned their fixed wireless offer as 'wireless fiber.' It uses unlicensed spectrum and offers speeds of up to 100 Mbps at a preferred range of 5 miles.
Beyond the embedded base of hundreds of wireless ISPs, other carriers are also quite active in fixed wireless, including AT&T, Verizon, Windstream, Frontier, and others.