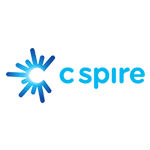 C Spire said today that it successfully demonstrated 5G fixed wireless technology using spectrum in the 28 GHz band. The C Spire 5G news raises the question of whether we will see more companies outside the Big Four nationwide wireless carriers taking a more active role in 5G development than they have with previous generations of wireless technology.
5G eventually will support mobile use. But initial deployments are expected to involve fixed service – and there are many players in the fixed broadband market that might be interested in the technology.
Although C Spire traditionally was a wireless company, in recent years it has branched out into other areas. In addition to operating a fiber network and a data center, the company also is deploying gigabit fiber-to-the-home in parts of its home state of Mississippi.
C Spire 5G
5G is expected to support gigabit services over relatively short distances, which means it could complement C Spire's landline gigabit deployments – a prospect that is looking more promising now that Verizon's CEO has expressed optimism about the economics of 5G fixed wireless. And C Spire is particularly well positioned to deploy the technology considering that it already has deployed fiber and towers that could support the technology.
Importantly, C Spire also has spectrum in the 28 GHz band – a band that is well suited to 5G deployments. It's the same band Verizon aims to use for its 5G trials.
Verizon expects to get the spectrum by purchasing XO Communications – a purchase motivated, in part, by Verizon's desire to get its hands on spectrum suitable for 5G without having to wait for additional spectrum to be auctioned.  Verizon apparently is hoping to gain a competitive edge by pioneering 5G – a reality that should help C Spire garner vendor support for its own 5G development efforts.
The spectrum that the FCC expects to auction for 5G use is in three bands, including a portion of the 28 GHz band and two other bands. While licenses for the other two bands are expected to be for relatively large geographic areas, the FCC expects to auction the 28 GHz spectrum on a county-by-county basis – a move that also could draw non-traditional players to 5G – players who likely would use the spectrum for fixed deployments.
In a press release about C Spire 5G plans, the carrier noted that it used equipment from Nokia for its 5G technology testing.