Sprint executives were busy this weekend. Another run at a T-Mobile merger failed, but a new Altice MVNO deal was born. To top it off, Sprint majority owner Softbank intends to up their current 82% ownership stake in the U.S. mobile carrier.
Both T-Mobile US and Sprint CEOs took to Twitter this weekend, announcing the long discussed Sprint – T-Mobile US deal is dead, again. An official T-Mobile press release says the companies were unable to find mutually agreeable terms.
This has been a would-be on-again, off-again corporate marriage (some would say 'soap opera') for quite some time now. The culprit appears to be Softbank's demand for certain control in the merged company that T-Mobile US could not agree to.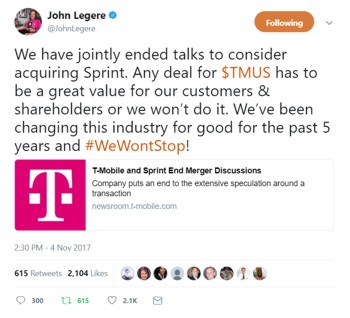 It's off again, for now. Of course it was off again just a week ago, only to be back on, so check back in a couple weeks.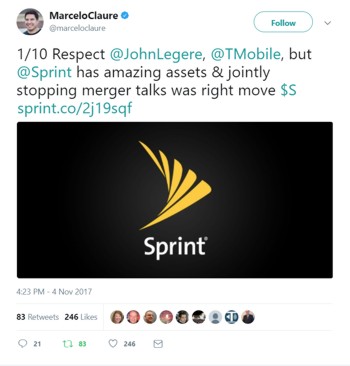 Altice MVNO
Sprint's news this weekend didn't end with T-Mobile though. They also announced an Altice MVNO agreement that will bring mobile services to Altice's customer base, riding Sprint's network. As a apart of the agreement, Sprint will leverage Altice's network for network densification, including the deployment of small cells for advanced 4G and 5G technology.
"In this first of its kind agreement, Sprint will provide Altice USA with access to its full MVNO model, allowing Altice USA to connect its network to the Sprint nationwide network and have control over the Altice USA mobile features, functionality, and customer experience," a Sprint press release explains. "In exchange, Altice USA will leverage its network to support Sprint's network densification efforts and establish a differentiated network operating model going forward."
Cable MSO Altice USA provides triple play services in 21 states, serving approximately 4.9 million customers. Altice USA has announced a FTTP overbuild, skipping the conventional cable MSO DOCSIS 3.1 path to next generation broadband, which could be very attractive to Sprint for network densification purposes. The U.S. subsidiary of European-based Altice says they will reach 1 million homes with FTTP by 2018.
Sprint has been rumored to want to do some type of cable deal, maybe even a merger with a cable MSO for some time. Charter merger talks were heating up, during the on-again, off-again T-Mobile US courtship. This Altice MVNO move is interesting in that context. Could it be a first step towards a more formal Sprint-Altice USA relationship? A closer relationship with Altice USA could also accelerate more cable type partnerships for Sprint, adding more speculation to their future with the cable industry.
Last but not least, and maybe as a consolation prize, Softbank will add to its ownership of Sprint by upping its stake from its current 82%. Softbank didn't offer many details about this additional investment, other than to say it won't increase its stake in Sprint to 85% or more. An outright ownership of 85% or more would require Sprint to be delisted as a separate company. Softbank says it will acquire Sprint shares through "[o]pen market transactions or otherwise, subject to market conditions and other factors."