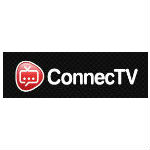 Silicon Valley start-up ConnecTV got a big boost today as ten leading broadcast groups signed long-term agreements with the company, which has developed a free, real-time TV viewers' social network, according to a ConnecTV press release.
Taken together Barrington Broadcasting Group, Belo Corp., Cox Media Group, E.W. Scripps Co., Gannett Broadcasting, Hearst Television Inc., Media General Inc., Meredith Corp., Post-Newsweek Stations Inc. and Raycom Media own 201 TV stations in 45 of the top 50 US TV markets covering 76 million households and including ABC, CBS, FOX, NBC, CW and WB affiliates.
Nine of the ten previously, ex Barrington, formed the Pearl network of 50 mobile channels in April of last year, which as part of the ConnecTV partnership "expand and coordinate the affiliate base of participating local broadcasters."
ConnecTV enables viewers to share their viewing experiences in real-time with other fans for free without having to actually to sit in the same place and watch TV together. In terms of generating revenue, the platform provides "a broad range of related content and promotional opportunities that are directly synchronized to programs being viewed."
An undisclosed number of the broadcasters are also making undisclosed investments in ConnecTV.
Part of the agreement calls for each broadcast partner to produce local advertising inventory that will appear on ConnecTV and "deliver innovative campaigns through their local ad sales teams." They will also promote ConnecTV on-air and online.
"From its very beginning, television has always been a big part of the daily American discourse. In this digital era, much of this dialogue now takes place on social media platforms. As local broadcasters, we love that people are talking about our shows," said Alan Frank, President and CEO of Post-Newsweek Stations on behalf of Pearl.
"We looked long and hard for a partner that could create a compelling environment that would encourage, enhance and monetize that dialogue, even during live programs including news coverage or sporting events – and we found it at ConnecTV."
"With over five billion TV viewers and the explosion of tablets and smart phones globally, we are truly at the beginning of a new way to watch TV," added ConnecTV co-founder Ian Aaron.
In development for the past two years, invitation-only "sneak previews" of ConnecTV will be launched publicly in early 2012.
Besides Aaron, ConnecTV's founders are Alan Moskowitz, former senior engineer at MobiTV and founding member of TiVo's engineering team, and Stacy Jolna, former general manager of TV Guide OnDemand and chief programming officer and founding executive team member of TiVo.