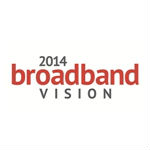 So much to learn, so little time. If you work in the broadband industry, I'm sure you can relate. There is no shortage of opportunities (which also have corresponding challenges), but the marketplace moves quickly, so you have to too. Picking and choosing the right opportunities is critical because there is much at risk. Building and operating broadband networks is a capital intensive proposition, requiring an adequate return on investment.
Monetizing that investment is a key focus for the upcoming BroadbandVision show, which is assembling a diverse broadband carrier audience of telcos, cable companies, municipals/utilities, and wireless Internet providers. Our areas of focus include Entertainment & the Connected Home, Cloud & Enterprise, and Broadband Ideas & Case Studies.
Differing Perspectives, More Insight
We believe there is much to gain by bringing together a cross section of the broadband ecosystem – it gives our attendees a chance to learn from and network with different types of carriers, who have different approaches and success factors with broadband. Sometimes you learn more from a colleague with a different perspective than your own.
This diverse carrier audience includes a growing speaker list who will offer great insight and varying perspectives of the broadband opportunity. This talented and diverse list of broadband thought leaders includes:
Jeff Gardner – CEO of Windstream, who has lead a transformation of his company from a rural focused telephone company to a leading provider of broadband, cloud, and managed services.
Steve Cochran – CEO of WOW! Internet, Cable & Phone, a triple play cable MSO provider who consistently ranks high in the J.D. Power Customer Satisfaction rankings.
Cullen McCarty – Executive Vice President of Smithville Communications, one of the earliest providers of Gigabit services in the U.S.
Randy Klindt – General Manager, Co-Mo Connect, A Subsidiary of Co-Mo Electric Coop, who represents a growing number of electric cooperatives who are launching FTTH broadband services.
Jeff Leslie – CEO of ITS Telecom, who is leading a comprehensive revenue diversification strategy, including the introduction of data center services.
Craig Drinkhall – CTO of Lumos Networks, who is overseeing an ambitious new wireless backhaul initiative for this Mid-Atlantic regional carrier.
Scott McCloud – CTO of Bluegrass Cellular, who is overseeing the construction and launch of a regional 4G LTE mobile broadband network.
We're Just at the Beginning
Relatively speaking, the broadband industry is in its infancy. Like the telephone, cable, and electric industries before it, broadband will have a multiple decade run before it peaks. Technologies, ideas, and business models will come and go during this run. Identifying the ones that will best benefit your company and your career will be of utmost importance. BroadbandVision is one resource of many that can give you the tools to help evaluate and decide which course to take in this journey. It's one stop – an important one – in your broadband journey, and we look forward to seeing you there.