Rural broadband speeds initially dropped as COVID-19 reached pandemic status but have increased over the last two weeks, according to research from BroadbandNow. Average rural download speeds were as high as 19.9 Mbps back in January but dropped to 15.5 Mbps in late March as schools closed and many employees began teleworking, driving increased home internet usage.
The data suggests that service providers have had some difficulty meeting demand but have quickly responded. It's important to note that BroadbandNow aggregates rural market data according to the CDC's Urban–Rural Classification Scheme. There are certainly rural markets served by smaller independent operators and cooperatives that are fiber -rich and see much better performance than this aggregate data suggests.
COVID-19 Rural Broadband
Average rural upload speeds were as high as 6.3 Mbps as recently as early March but have remained at 5.1 Mbps since March 22, according to the COVID-19 rural broadband report.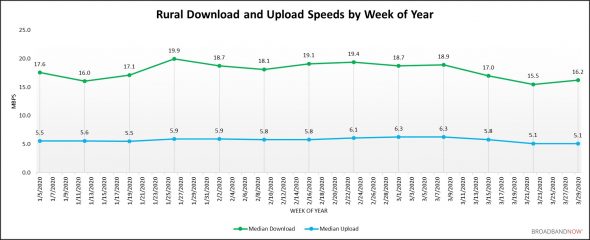 Many rural and urban broadband providers have taken the FCC Keep Americans Connected pledge, promising not to cut off customers during the COVID-19 crisis. Many have made Wi-Fi hotspots available for public use at no charge. Others continue to build out broadband networks to unserved areas.
Urban Area Broadband is a Mixed Bag
BroadbandNow also studied urban broadband speeds during COVID-19. Researchers looked at the 200 most populous U.S. markets over the last three weeks and found a mixed bag.
The week of March 15, immediately after COVID-19 was declared a national emergency, average download speeds in 112 of the top 200 markets were comparable to previous averages, with the remainder seeing average speed drops that were as much as 50% or more. For the following week, only 83 markets had rates that were "in-range" of pre-emergency averages.
Performance improved last week (the week of March 29), but still only a little more than half of markets (103) were in-range. Four markets last week were more than 40% "below-range," including Lawrenceville, Georgia; Rochester, New York; Saint Paul, Minnesota; and Evansville, Indiana.
Data for upload speeds showed similar trends.
For the week of March 15, 92 of the 200 markets had in-range upload speeds, but that number dropped to 56 the following week and increased somewhat last week to 61. Three markets last week were more than 40% below-range, including Baltimore, Los Angeles and Flushing, New York.
Additional details can be found BroadbandNow's COVID-19 rural broadband and urban broadband report.