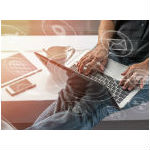 Broadband subscribers are on pace to use a median of more than 250GB of data per month this year, according to a broadband data usage forecast from OpenVault.
The basis of the prediction stems from the correlation between broadband consumption and average provisioned speeds that OpenVault says has been established during its decade of analysis. OVBI's Broadband Industry report for the fourth quarter of 2019, which was issued today, says that the average provisioned speed increased from 103.1 Mbps to 128.3 Mbps last year. That was slightly outpaced by a 27.3% increase in average consumption, which rose from 270.2 GB to 344 GB.
A 250 GB median usage level would be a 24.9% increase from the 190.7 GB median last year. In addition, historical factors indicate power users will use more than 1 TB monthly and will account for at least 12% of subscribers, which would be a 60% increase from the end of 2019. "Extreme power users" – who use more than 2 TB of data per month – will increase to 1.4%. That's an 80% increase since the end of last year.
Broadband Data Usage Forecast
The growth of demand is especially important to note by operators using slower DSL, early generation DOCSIS or wireless platforms, according to the report. "These trends are critically important planning metrics for operators to consider…As these operators upgrade their networks, they can use predictive modeling to better plan for the impact on their network. OpenVault has found that network operators who transition to FTTP or DOCSIS 3.1 see a doubling or more of bandwidth consumption as a result."
The report cited a case study that found that a shift from flat rate to usage-based billing increased ARPU almost 14%. More than 40% of subscribers contacted about usage-based billing opted to upgrade and only 2.5% incurred overage fees.
During the fourth quarter of 2019, the weighted average broadband usage in the United States was 344 GB. This is a 27% increase compared to the year-ago quarter's average of 270.2GB. Median usage rose 32% — from 144.8 GB to 190.7 GB. Power usage increased, with more than 7.2% using more than 1 TB per month. This is an increase of more than 80% compared to the year-ago quarter. Extreme power usage rose 123% to .76% of subscribers.
Several OpenVault studies during the past year point to changing usage habits, including the impact of cord cutting. In November 2019, the firm reported that cord cutters use more than a half-terabyte of broadband data per month, which more than doubles the 275 GB used by traditional broadband users. In May, the firm said that users without pay-TV subscriptions use almost twice as much data as homes that do have such service.
In August, the firm said that usage increases before a household cancels pay-TV service. This can help providers predict which homes are likely to cut the cord.