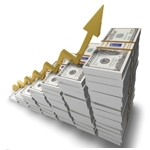 The $7.2 billion broadband stimulus program is well under way. By my count, approximately $564 million has been committed. That's a fair amount of money, but in context of the total program, it's a pittance. Given that the stated goal of the program is to commit all the funds by September 10, 2010, both NTIA and RUS will have to significantly ramp up the giving.
Roughly speaking, we have 8 months to reach this September 10 deadline. By my math, that means the program needs to average $830 million per month in awards to reach the $7.2 billion bogey —  a significant increase over what we've seen so far.
With that being said, you would assume both NTIA and RUS would be looking for some 'big ticket' applications to approve. There were several nine figure proposals (sum total of individual but coordinated applications) submitted with state government backing. Unfortunately for Massachusetts, they won't all be green lighted. But I think some will have to, to help meet the quickly approaching September deadline.
I estimate infrastructure awards to date have averaged $24.5 million (includes grants and grant/loan combinations). I suspect that 'average number' will need to increase to meet the program's timeline goals. Look for some of these larger state backed efforts to be approved soon.