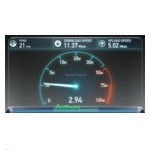 The Federal Communications Commission has been kicking around the idea of creating something for broadband services along the lines of the miles-per-gallon stickers that come on new cars—and today the commission took a step closer to achieving that goal by issuing a public notice asking for comments about the idea.
"The marketplace for broadband service is a confusing one for consumers," said Joel Gurin, chief of the FCC's Consumer and Governmental Affairs Bureau in an announcement of the public notice. "This public notice will provide a way for Internet service providers, the tech community and the public to help develop clear guidelines that will help everyone understand how to get the service they need."
In the public notice, the FCC refers to the type of data that might be provided as "need for speed" information. The notice asks respondents to answer questions such as:
What are the most important service characteristics that consumers need to consider to determine their broadband performance requirements?
What is the most effective way to ensure that broadband providers inform consumers about broadband performance needs?
What is the best way to present information regarding broadband performance needs in a concise, cost-effective manner that facilitates informed consumer choice?
Once "need for speed" standards and materials are developed, what are the most effective ways to get the information into the hands of consumers?
Gurin pointed to previous FCC research showing that 80% of broadband users do not know the speed of the service they are getting as evidence of the need for this sort of information. It's worth noting, though, that the same research also showed most people were satisfied with the speed of their Internet connection.
Interested parties have until May 26 to file comments in response to the public notice. Reply comments will be due on or before June 16.