The financial market sees greater value in privately held broadband providers than in large publicly held cable companies, according to a new broadband provider valuations report from CoBank's Knowledge Exchange Division. And while the disparity has existed for some time, the valuation gap is greater than ever, the report observes.
Researchers compared the selling prices of nine small privately held broadband providers, measured as a multiple of EBITDA, with the current EBITDA multiple, based on enterprise value, of five cable companies – Comcast, Charter, Altice USA, Cable One and WOW. The weighted average EBITDA multiple for the small providers was 22.15 compared with 9.1 to 14.85 for the cable companies.
CoBank attributes the gap to three factors that are putting downward pressure on valuations for public companies and two factors that provide "tailwinds" for private companies.
Downward Pressure on Cable Companies
The factors that are negatively impacting cable company valuations include public market dynamics, telco and electric company fiber investment and fixed wireless.
Market dynamics have driven stock values down for many public companies, including cable companies, CoBank says.
"Equity markets have been under tremendous pressure over the last several months given the rise in inflation and the associated increase in interest rates, the Russian invasion of Ukraine and the Federal Reserve's unwinding of their bond purchases, among other factors," the report notes.
The other negative factors both involve new competition for cable companies. Telecom providers are beginning to overcome their years-long disadvantage on the broadband front by deploying fiber more heavily than in the past and electric companies also are offering new fiber competition. Meanwhile, Verizon and T-Mobile are "aggressively" deploying fixed wireless and believe they are well positioned to take broadband share from the cable companies, the report observes.
CoBank notes that these competitive threats may be overblown but adds that, at a minimum, the new competition creates uncertainty, which some investors try to avoid.
Tailwinds for Private Companies
The two factors that positively impact private broadband provider valuations include less competition in the rural areas and smaller markets that small companies typically serve, as well as the unprecedented level of federal funding that is being made available for broadband deployments in rural areas.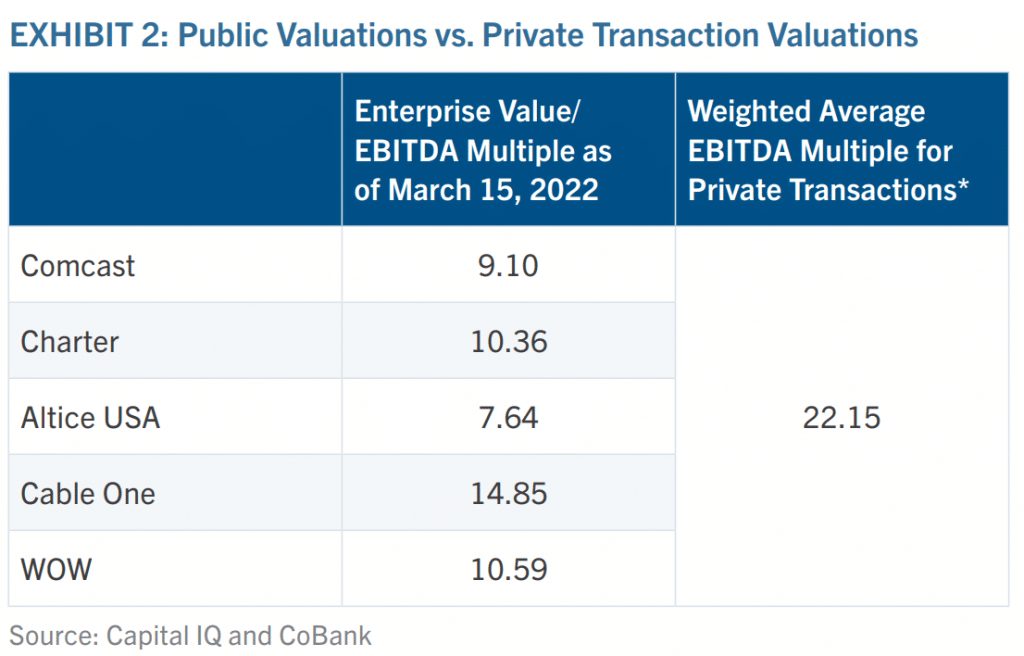 It would have been interesting to see how publicly held telecom/broadband provider valuations compare with those of the cable companies and the small broadband providers. Perhaps the cable companies made a better "apples to apples" comparison with the small providers because, unlike AT&T and Verizon, they don't have large mobile businesses. But perhaps it would have been instructive to include Frontier or Windstream in the analysis.
Nevertheless, it's an interesting report and certainly seems to be good news for small broadband providers.
"If they wish to sell, it's likely they will have no shortages of investors and strategic buyers willing to pay a premium for their businesses," the CoBank report observes. "Conversely, if they don't want to sell 100% of their equity but instead are looking for strategic partners with capital, options should be plentiful as well. This could enable them to upgrade their networks faster and/or enter new markets where the competitive environment is attractive."