Regional operator Jade Communications lays claim to being the first company in Colorado to offer multi-gigabit broadband – and the company is doing it with fixed wireless technology.
The company uses equipment from Cambium based on Terragraph technology originally developed by Facebook to offer service at speeds up to 2 Gbps in Manassa, a community in the southern part of the state.
"What's beautiful is we can now deliver next-day gigabit or multi-gigabit without a huge construction process or politics to get permits to bury fiber," said Jordan Wehe, marketing director for Jade, in a phone interview with Telecompetitor.
Terragraph technology achieves faster speeds in comparison with traditional fixed wireless technology because it uses high-frequency unlicensed spectrum that can support the faster speeds, albeit over relatively short distances. Terragraph overcomes distance limitations by having each customer's equipment act as a repeater for other customers.
For this to work, customers must be no more than 500 to 1,000 feet apart from each other, which hasn't been an issue in Manassa, where homes are in good proximity to each other.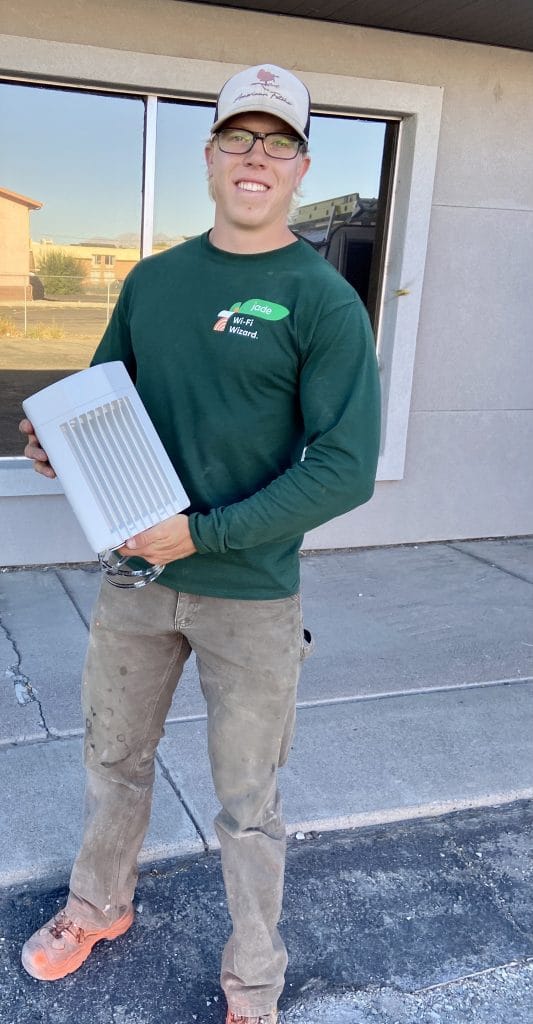 Internet Fun is a Core Value
Deploying Terragraph is an example of one of Jade Communications' core values: "The Internet is a fun and exciting place and so should the company be."
Examples of this core value in action: Jade technicians wear T-shirts saying "Brace Yourself I'm about to work some Wi-Fi magic." When customers sign up for gigabit service, they get a "Jade Gig Club" refrigerator magnet. A recent social media post said, "Deleting dating apps to find someone the old-fashioned way (by bragging that your home has Jade Wi-Fi)."
The company's other two values: "Privacy is a human right" and "Community is everything."
The company puts the former into action by including a ProtectIQ cybersecurity suite with all services. An example of the latter: Employees volunteer in the community at least once a quarter.
Jade Communications is the competitive local exchange carrier business of what was originally Blanca Telephone Company, a company that began offering phone service in the 1920s. According to Wehe, Blanca – now known as Blanca Networks — was the first company west of the Mississippi to own and operate its own telephone switch.
Jade's service territory covers an area the size of Massachusetts. The company offers broadband via fiber in some areas and relies on fixed wireless in others. The split is about 50/50.
In marketing its services, Jade doesn't focus on technology, though. Rather than specifying speeds, the company offers two service categories – Surfers, for those who don't watch Netflix and the like, and Streamers, for those who do.
In Manassa, Surfers previously got speeds of 50 Mbps downstream and 10 Mbps upstream for $55 using a different type of fixed wireless technology, but now will be able to get 100 Mbps symmetrical service for the same price.
Streamers previously got speeds of 100 Mbps downstream and 25 Mbps upstream for $80, but now will get symmetrical gigabit service for the same price.
The 2 Gbps service is a new category called Speed Pro that costs $125 a month and targets working professionals and gamers.
Jade has identified some other markets in its service area that would be suitable for the Terragraph offering and plans to deploy the equipment there as well.
"We're trying to innovate and overbuild ourselves," Wehe said.
Telecompetitor's Broadband Provider Profile series profiles service providers bringing broadband to every corner of the world.