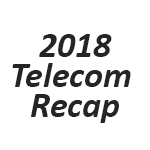 2018 was a big year in broadband news and 2019 is shaping up to be a big one as well.
The past year saw the government take some major actions toward ensuring that all Americans have broadband available to them – including completing the Connect America Fund CAF II auction, introducing a $600 million USDA broadband pilot, boosting the budget for the high-cost Universal Service Fund and passing a Farm Bill, which also allocates additional funding for broadband.
The drive for ubiquitous broadband has brought some new players to the forefront. For example, rural electric cooperatives and fixed wireless providers won a large percentage of CAF II funding. Deployments by major players such as AT&T and Verizon also gave fixed wireless a big boost.
On the mobile side, carriers' efforts to bring 5G to market dominated the news, with each of the Big Four providers laying claim to being first in achieving various 5G milestones.
So what's on tap for 2019?
Broadband News 2019
Here are 10 questions we hope to find answers to in the upcoming year:
How many people exactly lack broadband and will they get it? 2018 was the year that major flaws in government broadband availability data came to light. The FCC reportedly is taking steps to address these deficiencies, which are becoming increasingly critical as the commission strives to ensure that broadband is made available to all Americans. How to bring service to the most remote rural areas has yet to be determined and the solution will require knowing exactly how many people that includes.
Who will have the next edge in broadband? For several years, cable companies have had a broadband speed advantage except in markets where telcos or other providers have deployed fiber-to-the-home (FTTH). The bottom line today is that it's cheaper and easier for cablecos to upgrade their hybrid fiber-coax infrastructure to support the highest broadband speeds. But concerns are beginning to arise about just how many high-speed customers the cable companies can support with HFC and DOCSIS 3.1. Meanwhile, some telcos have made substantial progress in deploying fiber, potentially giving them the upper hand in a few years – unless cable companies make upgrades to boost their ability to support higher volumes of high-speed services. Some already are beginning to deploy deep fiber and distributed infrastructure with this goal in mind, and some telcos are beginning to deploy the next generation of their FTTH infrastructure. 2019 should give us a sense of how quickly the cablecos and telcos will need to undertake these upgrades to stay on top of the demand curve.
Will 5G flop at first? U.S. carriers have been ultra-competitive in the run up to 5G. But with smartphones in short supply until 2020 and at least two carriers pursuing a strategy requiring the deployment of dense small cell infrastructure, carriers run the risk of over-hyping the market. We can't argue with 5G's long-term goals but managing customer expectations in 2019 will be critical. Fixed 5G services by Verizon as a competitive threat to cable broadband will see it's first full year and the industry will be watching, as well.
Spectrum: Which bands do carriers want and who will get them? Spectrum is a bit like fashion. What's hot one year may not be so hot the next year – although one could also argue that spectrum never really goes out of style. Low-frequency spectrum covers broad areas, which usually makes it good for initial buildouts, which are then followed by buildouts in higher-frequency spectrum to add capacity in high-traffic areas. 5G adds some new wrinkles. T-Mobile expects to use lower-frequency spectrum to be first with a nationwide network. But that network likely won't support the ultra-high speeds of the networks that AT&T and Verizon are building using ultra high frequency millimeter wave spectrum. An auction of more millimeter wave spectrum is currently underway and we should know in the first part of 2019 who won it and what they paid. Additional millimeter wave spectrum in the 37 GHz, 39 GHz and 47 GHz bands is also slated for auction in 2019. Another auction that could occur in 2019 is the auction of CBRS band spectrum—wide swaths of mid-band spectrum that some see supporting 5G, while others want to use it for fixed wireless. A portion of the CBRS band also will be available for unlicensed use.
What will T-Mobile do in video? As more and more video viewing moves to mobile devices, it's only logical for wireless companies to get in on the act. Companies like AT&T and Verizon have both a wireless and wireline business and have offered video on the wireline side, which would seem to offer them an advantage. But after purchasing video company Layer 3 TV in early 2018, T-Mobile hopes to close this gap. Next year is likely to be the year we see the company bring its Un-carrier attitude to video as well as wireless.
How important will cable wireless offerings be? At the same time and for the same reason that wireless companies are moving into video, cable companies are beginning to get into wireless. Their ambitions are relatively modest for now. Comcast, for example, only targets people in its own video service territory. But considering the competitiveness of the market, the cableco wireless offerings are doing quite well. What will the cable companies do next? Will they obtain more spectrum to get more aggressive? Will they find more ways to leverage unlicensed spectrum?
Will AT&T get it right with its myriad video offerings? AT&T has been particularly aggressive on the video front, having purchased Time Warner in order to gain major content holdings. The company has at least six to eight video offerings already in its lineup or scheduled to launch in 2019, depending how granularly you dice its WarnerMedia plans. Is this too many? Or is it the only way to ensure the company competes on all fronts — including traditional linear video, OTT linear video and OTT subscription video on demand?
Will the Sprint T-Mobile merger happen and if so, will they keep their promises? T-Mobile and Sprint have made some big promises if their merger is approved – including making major fixed wireless broadband deployments in rural areas, along with major moves in mobile 5G. Soon we should know if the merger will be approved and if so, Telecompetitor will be keeping tabs on whether the companies do what they said they will do.
How big will the IoT be this year? Ask wireless carriers about growth drivers and odds are they'll point to the Internet of Things. Three major cellular communications options are emerging – including Cat 1, Cat M and NB-IoT, with each of the major carriers emphasizing different options. Meanwhile, the cablecos are pursuing unlicensed options and Dish Network is focusing its entire wireless strategy – initially at least – on the IoT as it races to meet certain spectrum buildout deadlines. Whose strategy will prove smartest? We may gain some hints about this in 2019.
Will the industry gain another telecom REIT? When Windstream spun off copper and fiber network assets into a real-estate investment trust in 2015, it gained tax advantages that freed up money for network investment. But while other telecom companies were expected to make the same move, that hasn't happened – at least not yet. Zayo hopes to make a similar move – and 2019 could be the year we find out if it will get the go-ahead to do so, potentially paving the way for addition REIT conversions moving forward.
* * *
Telecompetitor looks forward to bringing you all this broadband news and more in 2019.