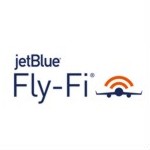 JetBlue is betting that high-speed Wi-Fi connectivity and a wider variety of VOD content, along with free snacks and more legroom in coach, will help it attract more travelers, as well as keep them coming back. The no-frills airline on Jan. 11 touted that its JetBlue Fly-Fi service "creates an experience like your living room in the sky."
That includes free access to high-speed Wi-Fi from the departure to arrival gate, DirecTV VOD and Amazon Video streaming, as well as chatting on every flight, JetBlue highlights in a news release. Faster than competitors´ "pricey" Wi-Fi connectivity and services, Fly-Fi also enables passengers to use more than one personal device on-board.
JetBlue was the first to distribute live TV to every seat. First introduced in Dec. 2013, the airline recently completed Wi-Fi installation for its entire fleet. In addition to upgraded Wi-Fi, JetBlue integrates these entertainment options:
36 channels of free DIRECTV on E190 and A320 aircraft and 100-plus channels on A321 aircraft
100-plus channels of free SiriusXM fleet-wide
Free Hollywood blockbusters on seatback televisions
Newly added audio/visual on-demand (AVOD) on A321 touchscreens at every seat, allowing customers to choose and control playback of nearly 30 curated movie selections including the latest Hollywood blockbusters and JetBlue crewmember picks
Curated video from Amazon, PureWow, and more on the JetBlue TV channel
JetBlue Fly-Fi service is powered by Exede satellite broadband.