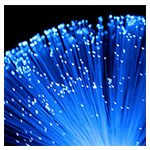 Fiber, copper and cable networks supported 77% of fixed subscribers worldwide at the end of last year, according to global fixed broadband statistics compiled by Point Topic.
The new research from the company found that more than half of people get their broadband over these types of networks in more than 40 countries. Leading the list are Singapore (97% of subscribers), China (89%), the United States (87%) and the United Kingdom (55%).
Global Fixed Broadband Statistics
The fiber and fiber/copper options include Fiber-to-the-Home (FTTH), Fiber-to-the-Building (FTTB), Fiber-to-the-Cabinet (FTTC), Very High Bitrate Digital Subscriber Line (VDSL), VDSL2 and Gfast. These approaches served 530 million connections, which is 57% of the worldwide total. Gfast, which provides an avenue to quick upgrades that preserve existing copper investments, is in trials with 30 operators, while cable and hybrid fiber-coaxial cable (HFC) held 20% of the market.
"We are finding that customers across most global regions increasingly prefer faster broadband services delivered over fiber and cable platforms, as opposed to ADSL," Point Topic Research Director Dr. Jolanta Stanke said in a Broadband Forum press release. "This trend will continue as more bandwidth-hungry young consumers become paying decision makers, even though superfast 4G LTE and 5G mobile broadband services will compete for their wallets."
Flexibility is a key. "If operators want to deliver competitive broadband services, maximizing their investments through the use of technologies like Gfast is vital," Broadband Forum CEO Robin Mersh added in the release. "Expanding the footprint of their existing fiber networks in this way is cost-effective and delivers the gigabit speeds consumers crave.
The voracious demand for connectivity is evident in the increased demand for fiber, cable and coax despite the parallel growth of LTE and, soon, 5G. Though 5G is in its infancy, the investments in fiber, coax and copper are being made because planners expect 5G to be mainstream soon.
Last month, Broadbandtrends released research showing that four in five service providers have Gfast plans for this year and that 27% are in active deployments.
Image courtesy of flickr user Matthew Wilson.