Internet-only homes, defined as those that don't subscribe to traditional pay-TV, use almost twice as much data as homes that have traditional pay-TV, according to a new broadband data usage report from OpenVault, a provider of broadband industry analytics and software-as-a-service (SaaS).
The company's SaaS platform captures data usage from end users, and the research is based on that aggregate data from the first quarter of 2019.
Internet-only homes consume an average of 395.7 gigabytes (GB) per month, in comparison with 209.5 GB per month for bundled homes that purchase pay-TV as well as broadband. The implication is that homes that have cut the pay-TV cord are likely to make heavier use of over-the-top or streaming video options, driving higher data consumption.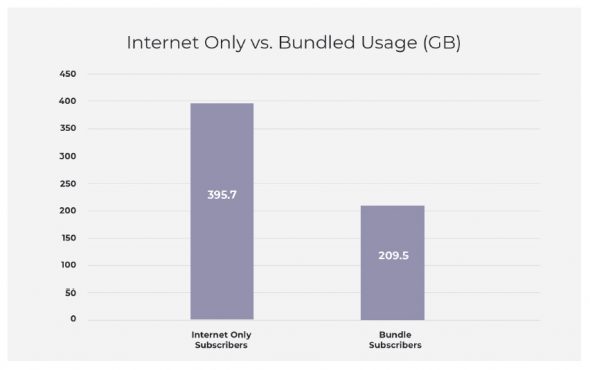 Numerous service providers have reported that internet-only customers tend to purchase higher-speed services in comparison with bundled customers, but the OpenVault research is notable in that it looked at data consumption as well as data speeds.
Unlike wireless providers, wireline broadband providers typically don't cap the amount of data customers can use, although they may have language in their contracts that allows them certain remedies for the very heaviest data users. But the OpenVault findings raise the question of whether this will continue as more and more customers cut the video cord.
Other interesting findings from the report:
Overall average monthly data consumption was 273.5 GB – a 27% increase over the same period a year earlier
The percentage of power users, defined as subscribers who consume 1 TB or more of data per month, doubled to 4.2% of all subscribers in Q1 2019 from 2.1% a year earlier
6.5% of internet-only subscribers are power users, compared with 2.2% of bundled subscribers