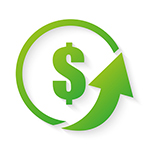 Nearly half of the U.S. population (45%) lacks access to a low-price wired broadband offering, according to a new broadband affordability report from BroadbandNow, the organization that maintains a detailed database of broadband offerings throughout the U.S. The research also showed that people in rural areas pay higher prices and that, ironically, people in areas with higher average income pay less for service.
Broadband Affordability Report
Researchers defined broadband as service supporting speeds of at least 25 Mbps downstream and 3 Mbps upstream – the same level that the FCC has used in its annual broadband progress report for several years. Low-priced plans were defined as those with prices less than or equal to the 20th percentile of all qualifying broadband plan prices within a given technology such as fiber-to-the-home (FTTH), DSL or cable broadband.
Some might argue that the 20th percentile is too low. But considering that broadband providers typically offer several speed tiers, the 20th percentile might be about right if it represents entry-level service – and in urban areas, where FTTH and DOCSIS have been widely deployed to support speeds of 100 Mbps or even 1 Gbps, a 25 Mbps offering might indeed be entry-level. But in areas that are costlier to serve, 25/3 Mbps service might be delivered over DSL and might be one of a service provider's highest-speed – and therefore, costliest — tiers.
A chart included in the BroadbandNow broadband affordability report shows a direct relationship between population density and the mean and median lowest price available for 25/3 Mbps broadband service. Overall, that price was about $50 in the most densely populated areas, but in the range of $65 to $68 for the least densely populated areas. That's as much as 37% more for the least densely populated areas, the researchers noted.
Other key findings from the BroadbandNow research:
Across the 50 states, fiber has the lowest average price per megabit per second – 48 cents, compared with 65 cents for cable and $1.53 for DSL
States with median household income of at least $60,000 have 78% low-priced plan coverage, on average, compared to only 37% for states with average incomes below $60,000
The BroadbandNow report comes at a time when government and industry are working to identify a process for tracking broadband availability nationwide in response to concerns that the National Broadband Map operated by the National Telecommunications and Information Administration is based on flawed data.
BroadbandNow's director of content told us last year that his organization bases its findings on data gathered by M-Lab, which would seem to be a database that could play a role in the map update efforts.