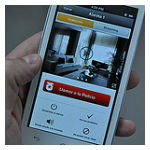 Google has successfully created an operating system for the smartphone with Android.  Together with Apple's iOS, they jointly have a duopoly on the software that runs smartphones and tablets, although globally, Android has the lead over iOS. The idea of smart devices has moved beyond just mobile phones and is now penetrating the home and business, creating what has been coined the Internet of Things (IoT). Google wants to extend Android's reach into IoT with Brillo, the initial name of their IoT operating system.
Google has made a couple of forays into other devices, but with limited success. Android TV, their attempt at a smart TV operating system hasn't exactly taken the TV business by storm. Most recently, they have introduced an operating system for your car – Android Auto – which will be featured in upcoming Hyundai vehicles. Next up, the smart home.
Brillo as a Smart Home Operating System
According to a report from The Information, Brillo is a version of Android, designed to manage the plethora of devices that will be featured in the smart home. These are low powered devices, including things like lightbulbs, thermostats, door locks, and ceiling fans. Brillo will connect all of these devices, utilizing system-on-a-chip (SoC) technology, allowing consumers to control their home in new and interesting ways.
For Brillo, the playbook is quite familiar. According to the Information report, Google may give Brillo away to manufacturers of these devices, allowing them to embed the software within the devices with no licensing costs. This is the same approach Google has used for smartphones, helping them grab the largest global smartphone share. They may be able to do the same for the IoT. Google is expected to provide more details about Brillo at this week's I/O Developer Conference.
Of course Android's arch nemesis iOS has smart home plans of its own. And with hundreds of millions of iOS devices, including iPhones, iPads, and Apple TVs already in the market, Apple will be a serious force in the smart home market as well. Apple has already laid out some plans for HomeKit, their version of a smart home operating system, with many more details expected to be released at Apple's upcoming Worldwide Developer Conference in early June.