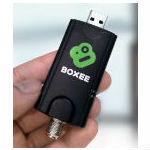 Boxee Live TV tuners are now on sale and shipping, while the 'disruptive' OTT entertainment venture's also begun rolling out Boxee version 1.5 software to Boxee Box set-top boxes (STBs), Andrew Kippen wrote on the company's blog.
The Live TV plug-in device includes social channel listings that show what your 'friends' are watching, as well as how many people are watching a show in total as you browse through channels.
In addition to actively sharing on social media sites, the Boxee Live TV Timeline App, when switched on, enables passive sharing of content that automatically shares whatever you happen to be watching on your Facebook ticker.
Live TV also enables users to hide and rename channels. Having finished watching a broadcast program, users can jump into viewing more episodes from the Web.
While DVR functionality isn't built into Live TV yet, Boxee's investigating the possibility of providing it.
Included in the new, version 1.5 of Boxee Box's software are:
New UI look and feel
Improved search
New library screens with simpler filtering
Browser Pop-up management
Rotten Tomatoes integration
On-Device Social Account Pairing
Boxee will be rolling out the new software release over 72 hours, which means some Boxee Box users might not get the update until later this week, Kippen wrote. Those who want it right away can read the instructions on how to do so on Boxee's user forums. Full release notes are also available.