Add Wi-Fi provider Boingo to the growing list of service providers creating new and innovative video offers through over-the-top (OTT) delivery. Boingo recently introduced their Core TV service, which features a skinny bundle of content delivered OTT, with heavy emphasis on sports content. For now, the service is limited to Boingo's military base operations, and not across their 1 million+ wi-fi hotspot network.
The Boingo OTT video service, which is priced at $19.95/month delivers a limited skinny bundle, featuring sports content from Fox Sports, MLB Network, NFL Network and a few other channels, including FX. According to a promo on their website, additional sports channels will be added soon including many Fox regional sports networks (although it's not clear if they will be included in the base $19.95 fee).
Boingo OTT Video
Core TV appears to be following the Sling TV model of a skinny bundle with program pack add ons. Currently, they're offering a Movie pack for an additional $5 monthly, as well as subscriptions to both Showtime and Starz for an additional $15. I suspect more program packs are coming.

The service is offered to Boingo's military base market segment, where they currently offer broadband services to military personnel across several military bases in the U.S. and Japan. They're using a hybrid network of wired and wireless infrastructure to deliver wi-fi broadband ranging in speeds from 5 Mbps ($24.95/month) to 30 Mbps ($49.95).
When they launched this service in November of 2014, Boingo claimed the service reached "100K beds" across 21 military installations. They are adding additional locations though.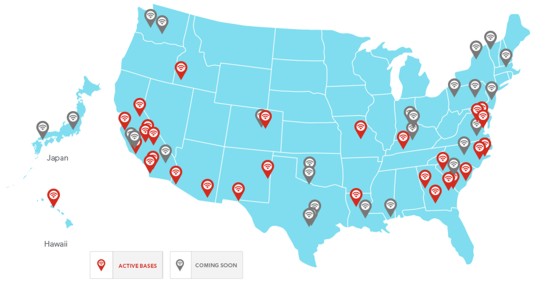 Boingo makes no mention of extending this service to their extensive wi-fi network. I'm sure programming rights agreements are part of the reason why. But should they be able to work through those issues, adding access to Core TV through their wi-fi network would be an interesting competitive differentiation.
Skinny bundles of video service are the latest attempt by service providers, broadband and video alike, to find the right balance between programs/channel access and cheaper pricing. There is a segment of the market looking for alternatives to the traditional pay-TV bundle. Boingo OTT video is just one of many currently testing the market. Expect many more.