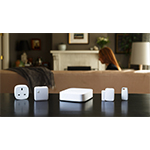 Developing network gateways and interfaces that enable cloud services platforms to communicate with the fast-growing number and diversity of connected ¨smart¨ home sensors and devices is a focal point for industry participants. The trend serves as an indicator for the evolution of IoT technology, and its applications and market prospects in smart homes and buildings.
Executives at Kirkland, Washington-based the Bluetooth SIG view smart home IoT communications as a strategic business opportunity given Bluetooth's widespread use in providing wireless, low-power communications for consumer electronics (CE) devices in the home.
The Bluetooth IP Standard
On February 9, Bluetooth SIG introduced an IP-based network architecture and toolkit that enables developers to more easily build gateways for Bluetooth products. That smooths the way for connected home sensors and devices to share data and communicate with cloud services platforms.
"We heard the demand for gateway functionality, not just from our members, but from consumers, who want a connected home but are not satisfied with current capabilities," elaborated Steve Hegenderfer, director of developer programs for the Bluetooth SIG.
The Bluetooth Internet architecture and toolkit moves smart home IoT technology a step forward by eliminating the need to use smartphones or tablets as intermediaries in sharing data with cloud services platforms and controlling smart home sensors and devices regardless of proximity, Bluetooth SIG explains in a press release.
That type of functionality enables developers to effectively create smart home communications hubs that network all types of IoT sensors and devices. "People want to monitor their home security system from their couch and office,¨ Hegenderfer continued.
The Bluetooth Internet gateway architecture provides a standard way for any developer to create this gateway functionality. Routers, thermostats, security systems – the always on, always connected infrastructure in the home – can now speak to and control tiny, low power sensors and relay that information to the cloud, providing control from anywhere."
"The key value promised by the IoT is that we can make life a little better by linking technologies and giving people more knowledge and control," Bluetooth SIG VP of marketing Errett Kroeter added. "Our new Bluetooth gateway architecture enables the IoT to do just that. We are extending the monitoring and control of Bluetooth enabled sensor devices to the cloud and making the data accessible."
Samsung is another leading industry player that's working along the same lines. Samsung launched its SmartThings cloud-based smart home hub and monitoring device and service late last year.