Bluebird Network has completed a 61 mile fiber expansion in Springfield, MO. The project interconnects major business areas in the city to both the Bluebird Underground Data Center, which also is in Springfield, and the company's Midwestern fiber network. That network is more than 9,300 miles.
"Bluebird Network is proud to provide cutting-edge Ethernet and internet connectivity to businesses in Springfield that span the healthcare industry, governmental agencies, financial institutions, wireless providers and other businesses within the community," Bluebird Network President and CEO Michael Morey said in a press release. "Our agility and reach have enabled us to rapidly respond and deploy new fiber services and products as we continue our expansion in Missouri, Illinois, Iowa, Kansas and surrounding states. The fiber build in Springfield is here, it is complete, and Bluebird is ready to deploy services!"
Bluebird Network Expansion
The next step for the company will be a fiber buildout in Stafford, MO and other projects in the midwest, the company says.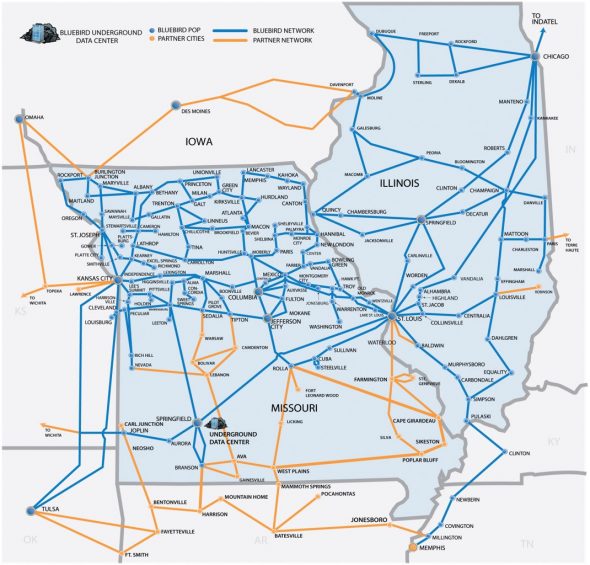 Bluebird Network had an eventful 2019. The most important bit of news was in early September, when its acquisition by Macquarie Infrastructure Partners, a large infrastructure fund, closed. In addition to new owners, Bluebird immediately gained 2,500 fiber route miles in Illinois. Communities connected included Rockford, Peoria, Bloomington, Normal and the Quad Cities. A second expansion to the underground data center in Springfield also was announced at that time.
In December, Bluebird announced an agreement to purchase the Illinois Network Alliance (INA), a network operator in the state that at the time was owned by several smaller telecom service providers. Bluebird said that adding the network, which it already was managing on behalf of INA, would give it 9,300 fiber route miles and presence in major cities including Chicago, St. Louis and Kansas City.
In May, Bluebird Network completed a fiber build in Weldon Springs, MO. In addition to that community, the build serves Dardenne Prairie and Cottleville, MO.