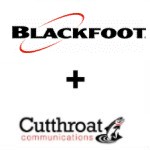 Acquisition momentum that helps traditional telecom carriers expand into the faster growing business services segment continues with the announcement that Blackfoot Telecommunications Group of Montana is buying Cutthroat Communications Inc (CCI), also of Montana. This is Blackfoot's second acquisition this year, having acquired Modwest, a local web hosting company, in January 2012.
CCI is an integrated communications carrier, serving the business sector across the Northwest with a fiber network that offers data and voice services, cloud and managed services, and professional services. The ten year old company is based in Bozeman, Montana and its name comes from the Cutthroat trout species.
"Smart growth is a top priority for Blackfoot," said Bill Squires, Blackfoot's Chief Executive Officer in a press release. "With this acquisition we are gaining strong talent and innovative technology that builds on Blackfoot's successful IP network. It allows us to offer a new world of more competitive services to business customers in Montana and the region through the use of Cutthroat's advanced wireless and fiber connectivity."
According to a company spokesman, the Cutthroat acquisition gives Blackfoot approximately 2,000 additional business customers. CCI will be merged with Blackfoot's existing CLEC operation, but the CCI brand will remain.  According to Blackfoot's CTO, the acquisition will allow them to serve "…multi-location businesses without geographic boundaries through advanced services like virtual server colocation, virtualized desktop and applications, disaster recovery, hosted business systems and more."
Like most traditional telcos, Blackfoot is looking to expand its revenue base beyond traditional telephony services, and growing and/or acquiring the ability to expand business services is one of the most attractive tactics. Blackfoot is no stranger to diversification. In addition to their traditional telephone company, which is a member owned cooperative, Blackfoot Telecom Group also owns Modwest; Blackfoot Communications , their existing CLEC; and TeleSphere Software, a wholly-owned subsidiary that offers professional services to the telecommunications industry.