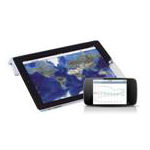 Mobile connectivity has become a common feature at baseball stadiums across the U.S., as team and stadium owners look to keep up with social media trends and sell tickets. Using off-the-shelf smartphones to assess mobile network data performance, RootMetrics performed tests at 29 Major League Baseball stadiums across the U.S., including overviews at nine where attendance ranks among the highest.
Boston's Fenway Park ranked highest in RootMetrics composite ranking with a score of 94.8 out of 100. Turner Field in Atlanta turned in a second-place performance with a 94.2 score, while Miami's Marlin Park followed with a score of 93.0.
Best Stadium Wireless
Verizon garnered the most Venue RootScore Awards (14) for top-performing mobile networks among the four service providers with systems up and running across the 29 MLB stadiums at which RootMetrics conducted tests. T-Mobile ranked second with 11, AT&T third with 5, and Sprint brought up the rear with three.
Crowds and complicated architecture at MLB stadiums make for stiff challenges for mobile network service providers with regard to delivering consistently high rates of throughput and overall service quality, RootMetrics noted. Stadiums that are home to teams that make it to the post-season playoffs, in turn, rank among the highest in terms of attendance.
RootMetrics found a high degree of variability among the 29 MLB stadiums included in its survey. Ranking highest among the nine playoff stadiums  and sixth among all 29 MLB stadiums, the fastest median download (13.1 Mbps) and upload (11.3Mbps) averaged highest at PNC Park in Pittsburgh. With Sprint, T-Mobile and Verizon all scoring ¨Excellent,¨ PNC Park earned an overall RootMetrics mobile network service score of 91.1.
Globe Life Park in Arlington, Texas ranked second among the nine MLB stadiums with high attendance and eleventh overall with the fastest median download speed of 14.3 Mbps and median upload speed of 7.8 Mbps for an overall RootMetrics score of 87.5. Ranking third among the nine was Busch Stadium with a fastest median download spped of 10.5Mbps and upload speed of 7 Mbps for a RootMetrics score of 85.5.
On the bottom end of the spectrum, Kansas City's Kauffman Stadium ranked 29th in RootMetrics overall composite scoring. Comparatively low network speed and poor reliability led to Kauffman Stadium's last place ranking.