Industry Insight Series
The broadband industry is eagerly awaiting the full launch of the NTIA's Broadband Equity, Access, and Deployment (BEAD) Program. The BEAD Program—which is part of the Infrastructure Investment and Jobs Act of 2021 (IIJA, a.k.a. the Bipartisan Infrastructure Law)—ensures a minimum of $100 million for each U.S. state and $25 million for each U.S. territory for the creation and deployment of broadband networks.
Local governments and broadband network operators are currently developing partnerships and making plans to apply for funding, with the granting period set to open this spring or summer. As you make these preparations, it's vital to examine the requirements of the BEAD Program (as outlined in its Notice of Funding Opportunity).
One key area of those requirements—which is buried within the 95-page Notice of Funding Opportunity—details strict cybersecurity requirements that must be met by any municipality or network operator applying for BEAD Program funding. Cybersecurity has become a hot topic in Washington, as the federal government tries to balance the expansion of broadband networks around the country with the need to keep Americans protected from cyberattacks. The BEAD Program Notice of Funding Opportunity specifically calls out the need for "protecting American communications networks and those who use them from domestic and international threat actors." The message of the BEAD Program is yes, create networks in the national interest, but equally important is ensuring that these new networks are safe and that their users are protected.
As such, the BEAD Program requires that all prospective grantees implement a risk management plan, which must adhere to the National Institute of Standards and Technology (NIST) Framework for Improving Critical Infrastructure Cybersecurity. The NIST Framework, last updated in April 2018, is a comprehensive 55-page document with separate requirements in several areas:
Identifying risks
Protecting data and assets
Detecting threats
Responding to cybersecurity events
Recovering data and assets
Are you ready to meet the demands of this section of the BEAD Program grant application? The level of detail in the NIST Framework can be overwhelming. Before you bury yourself in pages and pages of confusing requirements, let CHR Solutions help walk you through it. Our new, complimentary guide to BEAD Program grants is designed to help you navigate the cybersecurity requirements. In the guide, you'll learn about:
The BEAD Program justification for its cybersecurity requirements
The four primary cybersecurity requirements named in the BEAD Program Notice of Funding Opportunity
A detailed look at what the NIST Framework requires a cybersecurity plan to address
Guidance about your next steps toward BEAD Program funding
As you move forward with your BEAD Program preparation and planning, don't let the cybersecurity requirements—a vital part of our future as a connected country—take you by surprise. Get an assist from CHR. We have decades of experience in managed services, data privacy, and compliance solutions, and we'll help you make sure you're ready to meet the cybersecurity demands of the BEAD Program. Download our free guide to BEAD Program funding today.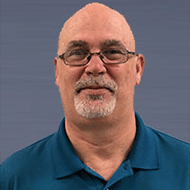 Trent Martin, Director of IT Services
CHR Solutions
Trent is responsible for all IT functions and Infrastructure in the CHR network, including multiple data centers, client facing Software as a Service environment, network engineering, server engineering and Cybersecurity. Trent has comprehensive experience in directing technical resources, network and server engineering, network security, Enterprise Resource Planning and Electronic Health Record systems, and enterprise IT support. Trent provides project based and annual Cybersecurity training to Managed Services Clients including telecom and financial clients. His responsibilities include annual required security audits and project-based services to strengthen customer network security positions.
This series features insight into important broadband industry issues from industry leaders.