States will get an average of $743 million in funding through the Broadband Equity Access and Deployment (BEAD) program, according to a state BEAD allocations estimate from carrier organization ACA Connects and research firm Cartesian.
Texas is poised to get the most funding in the program – approximately $3.5 billion – the report says.
The state poised to get the second highest amount of funding is Michigan, according to the researchers. Other states in the top 10, in descending order, are Missouri, Alabama, Georgia, Florida, Virginia, Arkansas, California and Louisiana.
All the top 10 states are expected to receive at least $1.3 billion, according to the researchers.
The BEAD program has a $42.5 billion budget to cover some of the costs of deploying broadband to unserved areas. States will be responsible for awarding funding to network operators in their state according to guidelines established by NTIA, the agency responsible for the BEAD program.
Official allocations are scheduled to come from NTIA on June 30. Rules call for BEAD program funding to be allocated based on each state's percentage of unserved locations in the U.S.
Texas likely ranked high because it has a large population and has a high proportion of unserved areas.
State BEAD Allocations
NTIA will base its allocations on data that the FCC is currently gathering from service providers about where they have service available. Providers have until March to input information into a locations database that was created for the FCC by a contractor.
The FCC has received criticism about the accuracy of the locations database. And although there was a challenge process for the locations database and for preliminary availability information submitted by providers, the agency also has received criticism about the accuracy of that data and the transparency of the challenge process.
In addition, both the FCC and the NTIA have received criticism about how information about the challenge process was communicated to stakeholders.
Some critics asked NTIA to delay the June 30 date for announcing state BEAD allocations, but NTIA declined to do that, citing the urgency of the program. Supporters of that decision argue that deficiencies in broadband location and availability information are unlikely to have a major impact on state allocations.
Readers can see how their state ranks in the report at this link.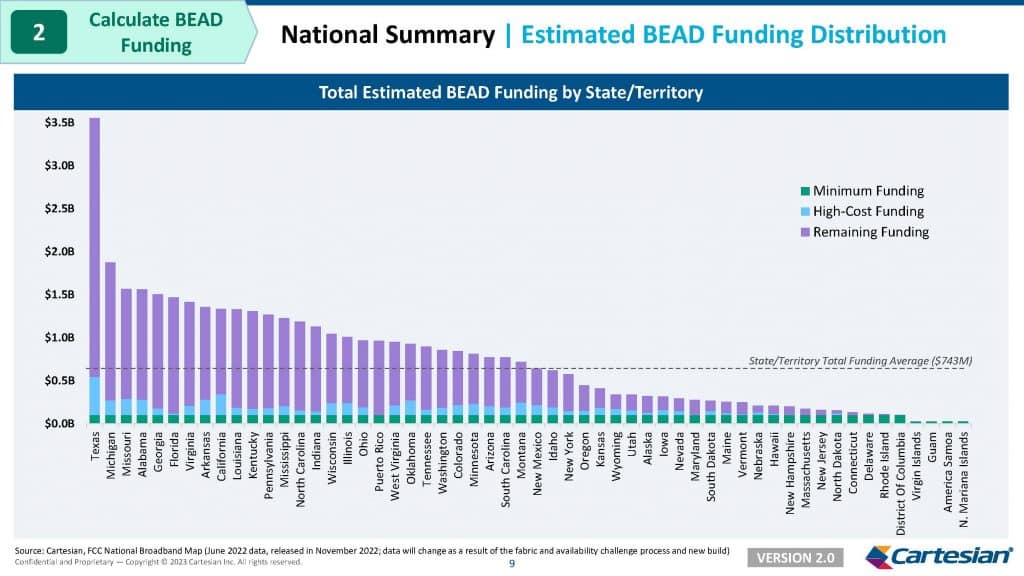 Updated to include the chart above