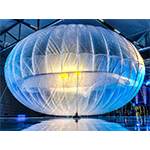 Analytics and consulting firm GlobalData is recommending that telcos and webscale companies work together to develop communications services based on balloons and drones. Using atmospheric satellite balloons and drones in telecom could support emergency communications and could provide coverage in unserved areas, GlobalData said.
Some U.S. carriers, including AT&T, have used or are looking at using drones in telecom to act as cellsites during service outages when traditional cellsite infrastructure is damaged.
Meanwhile, webscale companies such as Google and Facebook are experimenting with using balloons and drones in telecom.
Balloons and Drones in Telecom
Google used balloons developed through its Project Loon initiative in Puerto Rico to help restore cellular service after Hurricane Harvey destroyed much of the telecom infrastructure there.  And as GlobalData notes in a press release, Google's parent company Alphabet has now created a company to focus on the Loon balloon telecom technology. That company announced its first commercial project with partly state-owned Telkom Kenya earlier this year.
Facebook was less successful with its telecom drone efforts. The company's Project Aquila, which used high-flying solar-powered drones,  was abandoned in June 2018, according to GlobalData.
GlobalData sees the potential to use balloons and drones to provide communications services to areas of the globe where those services are lacking but argues that achieving this could require the participation of multiple service providers, potentially in partnership with webscale companies. Researchers also argue that the cost of service can be as big a barrier as a lack of service when it comes to global coverage.
Although not noted in the GlobalData release, at least one telecom equipment manufacturer also is getting involved with telecom drones. Huawei has an initiative known as Digital Sky that aims to create a low airspace ecosystem focused on drones to supplement traditional cellular networks and support a range of telecom services.