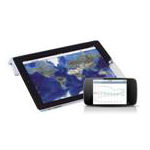 U.S. small businesses are optimistic when it comes to the emerging "Internet of Things" (IoT), seeing opportunities in faster access to greater amounts of data, resulting gains in productivity, and the potential to improve customer satisfaction and profitability, according to a new report from online security company AVG Technologies. That said, the businesses see barriers to capitalizing on IoT potential, particularly when it comes to cost, complexity and risk.
Considering that IoT is a buzzword created in large part for marketing purposes, AVG notes that many U.S. small businesses lack a clear definition of just what IoT is, or what it may mean for their businesses. "The 'Internet of Things' is one of those nebulous bits of jargon invented by the IT industry and many people I meet are confused as to what it actually means," Mike Foreman, AVG's general manager, SMB was quoted in a news release. "With this study we wanted to show how the IoT can bring opportunity to small businesses."
"Another aim of the report was to highlight key areas of difference between countries," he continued. "For example, it was significant that U.S. respondents were the only ones to put government monitoring ahead of lack of demand when it came to factors holding back IoT adoption."
In addition to cost and complexity, small businesses across the U.S., Canada, the U.K. and Australia see growing Internet of Things security risks resulting from use
of IoT technology and systems. Over two-in-five (46 percent) of survey respondents said they anticipate spending more time dealing with security hacks. Eighty-three percent said that human error concerns them more than security threats from smart devices, however.
Internet of Things Security Risks
According to AVG's IoT report, small businesses cited the following as the Top 3 IoT concerns:
Risk – more than half (54 percent) of respondents think the IoT will result in their organization being more open to security breaches or hacking. Nearly two-thirds (65 percent) of those surveyed agreed that security software aimed at IoT would put their mind at ease.
Complexity – data security (48 percent) and backups (34 percent) would become more complex
Cost – 44 percent said that cost is a reason preventing them from implementing IoT
"From the research we can see that while small businesses share great enthusiasm for the IoT, their concerns over cost, complexity and risk show they also have some serious reservations," Foreman commented. "The pent up demand for more backup, security, support and other services that we see in the study gives us a positive indication of how the service provider business model will develop over the next 2-3 years."
On the flip side, businesses also see opportunities to leverage IoT to improve their businesses. AVG summarizes its findings as follows:
The vast majority (80 percent) of respondents reported IoT as being relevant to their business to some extent.
The main benefits of IoT will come from increased access (65 percent of respondents) and faster access (66 percent) to more data along with productivity gains (69 percent). 56 percent said it will help customer satisfaction and 51 percent expected it to help them be more profitable.
Respondents were of the opinion that the top 5 devices that could present a security threat were: IP Phones (66 percent), CCTV (42 percent), Factory Equipment (34 percent), Sensors (31 percent) and Actuators (28 percent).
The top reasons respondents associated with the IoT that are preventing small businesses from buying and implementing smart devices were cost (48 percent), security (51 percent) and fears about government monitoring (27 percent).