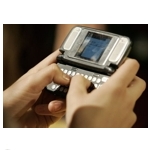 African- and Hispanic-Americans talk and text the most, women talk on their cellphones more than men, teens, by far, text more than any other group, and residents of the South talk more on their cellphones than people in other regions of the US.  All this according to yearly data (April 2009 – March 2010) compiled and analyzed monthly by The Nielsen Company from the cellphone bills of more than 60,000 mobile subscribers.
The African- and Hispanic-American subscribers Nielsen tracked racked up more than 1,300 and 826 voice minutes per month, respectively, during the period.  They also led the pack when it came to texting, sending and receiving some 780 and 767 SMS messages a month, respectively.
Ranking third among ethnic sections of the US population, Asian/Pacific Islanders' voice minutes' tally amounted to a monthly average 692 and received/sent an average 384 texts each month.  Whites used up an average of around 647 voice minutes and received/sent 566 texts a month.
Comparing gender differences, females talk on their mobile phones 22% more on average than men — 856.3 vs. 666.7 minutes per month.  They also text more, sending or receiving an average 601 SMS messages per month compared to 447 by males.

Also true to stereotypical form, teens text the most, sending or receiving an average 2,779 SMS messages per month, way above the next two age brackets, in which texting declines by half each step.  Those aged 18 – 24 sent or received 1,299 messages per month.  Those aged 25 – 34 sent or received an average 592 messages per month.  Voice usage comparisons between the two youngest age groups, by contrast, were in-line with each other: 981 voice minutes for those 18 -24 as compared to 952 for 25 – 34 year olds.
Nielsen's analysts also note regional differences in usage patterns in their latest report.  Southerners were the most talkative Americans, in terms of voice minutes, during the annual period.  Floridians, while they rank high in terms of voice minutes' usage, ranked low when it came to texting — in-line with the higher age skew of Florida residents, according to Nielsen, while Mississippians ranked high in both talking and texting.