Businesses and employee-consumers are trying to determine if and how they might benefit from augmented and virtual reality (AR/VR) and the Internet of Things (IoT) — and their assessments are a mixed bag, according to a new survey. The survey about attitudes toward IoT and virtual reality risks and rewards was conducted by business technology and cybersecurity association ISACA.
Presented with a range of prospective applications, 6 in 10 employed consumers participating in ISACA's multinational survey said they believed the AR applications would improve their lives and make it easier to do their jobs. In sharp contrast, 67 percent of IT professionals said they weren't sure the benefits of AR outweighed the risks.
Regarding personal use, consumers said using AR for training purposes and geo-location in the retail and healthcare sectors offered the greatest benefits. In the workplace, they said they thought using AR for training, safety guides and product demonstrations offer the greatest benefits, according to ISACA's latest annual Risk/Reward Barometer.
"With the proliferation of IoT-enabled devices and the drive to provide enhanced user experiences, IoT and AR have the power to become a source of unprecedented value and opportunity, as well as significant risk," said Rob Clyde, an ISACA board director, in a press release about the survey about attitudes toward IoT and AR/VR.
The launch of Pokémon Go in July 2016 galvanized consumer and commercial interest in AR. Goldman Sachs has touted AR/VR as having the potential to become the next big thing in large-scale computing platforms. The investment bank has predicted that the market for AR/VR hardware and software will grow to reach $80 billion by 2025, ISACA notes.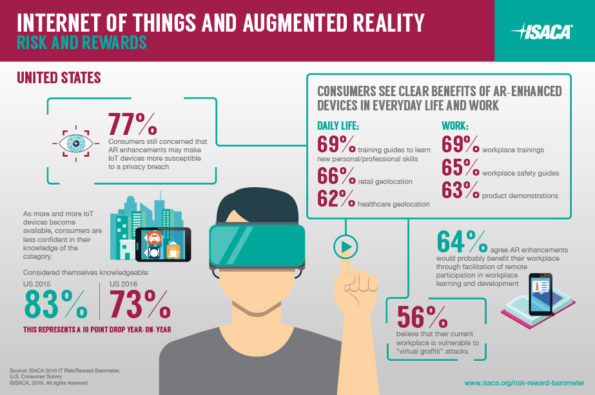 Eight percent of U.S. young adult Millennials (1.5 million) intend to purchase a VR headset this year, according to market research from Parks Associates released in September. That's more than double that of other age groups.
Attitudes Toward IoT
The situation is different when it comes to applications of IoT technology, the ISACA survey about attitudes toward IoT found. Confusion among survey participants increased substantially, with the percentage of consumers confident in their ability to identify IoT technologies  dropping 10 points from 2015-2016.
Incorporation of network connectivity and autonomous decision-making capabilities in devices and equipment of all kinds continues unabated nonetheless. According to ISACA's market research results for the U.S. consumer segment:
71 percent of U.S. consumers report owning at least one IoT device.
73 percent claim they are knowledgeable in identifying IoT devices—a 10-point drop from 2015.
Fewer than half (43 percent) report being knowledgeable in identifying IoT devices that have been enhanced with augmented reality.
When it comes to combining AR and IoT devices, 77 percent of consumers said they were concerned that doing so would increase their vulnerability to cyber threats and invasion of privacy. More than half (56%) said their workplaces were vulnerable to so-called ¨virtual grafitti¨ attacks.
According to the report:
37 percent of organizations have not used AR applications and do not plan to do so in the next year.
14 percent of respondents have used AR outside of work.
The percentage of respondents who say the benefits of business use of AR outweigh the risks (15 percent) is only slightly lower than those who believe the opposite (18 percent). The majority (67 percent) say they are unsure.
Nearly 1 in 3 (32 percent) have a way to detect pictures, posts and videos ¨geotagged¨ to their business location or advertisements.
Only 7 percent have a program in place to monitor negative comments on virtual graffiti apps.
Top barriers to adoption of AR in organizations are insufficient ROI (18 percent), security concerns (18 percent), insufficient budget (13 percent), and lack of skills/knowledge (11 percent).
ISACA includes some key recommendations for enterprise-scale businesses about the business benefits of using AR:
Extend social media monitoring to AR platforms. Leverage and extend current social media policies and monitoring to augmented reality platforms.
Consider how AR can improve your business. Training, diagnostics and marketing are three areas with particularly strong potential.
Review your governance framework and update your policies. Incorporate use of AR as part of the business into organizational policies and procedures—including BYOD (bring your own device) and privacy policies.
Build security into every part of the process. Security is a crucial component of AR initiatives that helps ensure confidence in the data.
"Enterprises need to work on being agile and applying sound measures around governance, security and risk management to fully realize the benefits of these technology advances. Proactive monitoring for malicious activity like virtual graffiti and data breaches is critical for business to gain value and mitigate risk," commented Christos Dimitriadis, Ph.D. CISA, CISM, CRISC, chair of ISACA's Board of Directors and group director of Information Security for INTRALOT.
"Individuals and enterprises should focus on rapidly getting up to speed on these technologies while learning how to manage risk so they do not compromise their company's ability to innovate."
Image courtesy of flickr user Nan Palmero.