AT&T says that it has leveraged public-private partnerships to bring its broadband fiber network to more than 130,000 locations during the past year. The funding for these projects includes funding from the American Rescue Plan Act (ARPA) and investment from the carrier.
An AT&T spokesperson declined to provide the dollar amount that AT&T received in funding but did provide total costs for all or many of the projects. The total costs include the funding that AT&T received plus the money that AT&T is contributing to project costs. Read on for details.
Public-private partnerships have become more central to broadband deployment strategy as money flowed from the government to help cover the costs of deployments to rural areas in response to connectivity needs during the COVID-19 pandemic.
AT&T Broadband Funding
AT&T estimates that the US has invested $13 billion in projects funded through the American Rescue Plan Act (ARPA). The ARPA estimate includes funding from the State and Local Fiscal Recovery Fund (SLFRF) and the Capital Projects Fund.
"This momentum is a product of openness and collaboration between industry and local government leaders sharing a common objective," Erin Scarborough, the President of Broadband and Connectivity Initiatives for AT&T said in a blog post. "In communities across the country, we have seen firsthand the real, significant impacts that broadband funding has when local leaders partner with industry experts to put it to efficient use."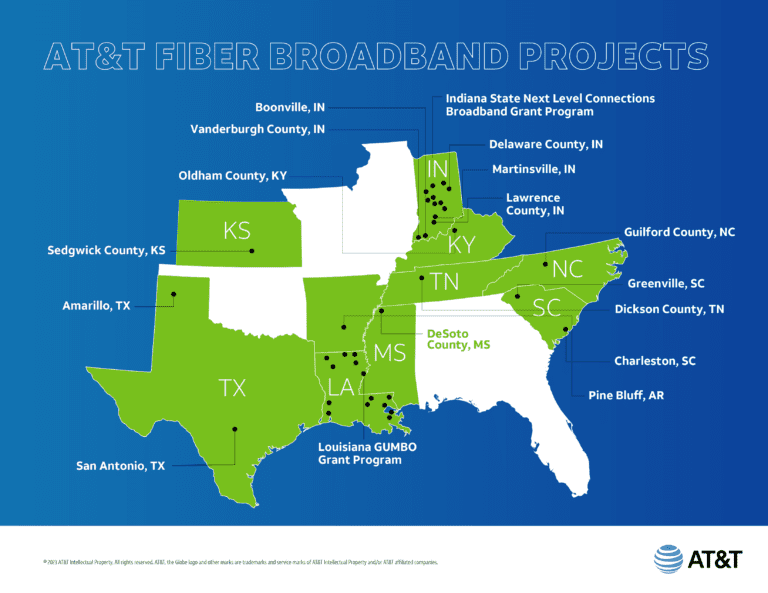 In a previous post about AT&T broadband funding, Scarborough laid out what it considered the important priorities for the NTIA in the BEAD process. These include encouraging participation multiple types of providers, engagement with local leaders, a flexible approach, staying tightly focused on established goals and reasonable cost thresholds. AT&T, not surprisingly, advocates program rules "that recognize the importance of solid track records building broadband networks."
AT&T pointed to two states in which it invested its own funds in addition to those from the federal government. In Indiana, it has committed to serve more than 38,000 addresses across 14 counties. Most recently, it said it would connect more than 2,300 customer locations in Lawrence County.
In South Carolina, it is working with Charleston and Greenville. It is bringing fiber to almost 6,900 locations in Charleston and to almost 2,500 locations in Greenville. In all, it is working to reach more than 9,000 customer locations in the state.
Other examples of public-private funded projects are Internet access projects in Sedgwick County, KS (more than 10,000 customer locations) and DeSoto County, MS (almost 2,400 customer locations).
Following is the information provided by the AT&T spokesperson: