AT&T Chairman and CEO Randall Stephenson told an investor conference this morning that its soon to launch SVOD service will be the company's "key video product," leading its video growth strategy. The service is scheduled to beta launch in the fourth quarter of this year, with a full commercial launch in first quarter 2020.
The SVOD service will be centered around HBO content, but will also feature Warner Bros. library of movies and TV shows, Stephenson outlined at the J.P. Morgan Global Technology, Media and Communications Conference, taking place today in Boston.
"Today you think about our video product and you immediately go to Directv and its 24 million subscribers, which is a broadcast video distribution network," Stephenson said today. "As we bring WarnerMedia into the fold, our key video product will become the SVOD service that Bob Greenblatt and [John] Stankey are standing up in WarnerMedia."
An interesting data point regarding this strategy is Stephenson revealed today that the SVOD offering will be packaged with an HBO subscription, muddying the revenue model picture a bit. There has been suggestions of multiple pricing tiers for the streaming VOD service, potentially even including a free advertising supported tier. Details have not been announced yet though.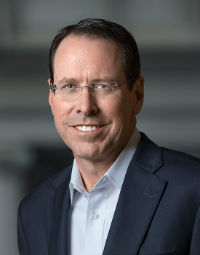 "If you're a Comcast subscriber and you acquire HBO, you will get this capability with your HBO subscription on Comcast," said Stephenson. "But then we want to just continue to push, you know, digital distribution on top of that as well."
This new WarnerMedia SVOD offer will enter a pretty competitive field, with well established top dog Netflix leading the pack already, Hulu well entrenched, and new entrants from Disney and Apple rounding up the field.
Stephenson doesn't appear worried. He points to his HBO "luxury brand" as key to differentiating WarnerMedia's offer over these competing offers. Stephenson also points to AT&T's existing 170 million customer relationships across mobile, broadband, and DirecTV in the U.S. and Latin America as an advantage.
"We think this is in the tens of millions of subscribers that we will have on this, we think the portfolio is that compelling," said Stephenson. "And then obviously keeping the satellite, the U-verse customer base in check and stable is really, really important, because it's going to be a major distribution platform, but the video business is going to be driven heavily by the SVOD service."
This post has been updated to clarify revenue models for WarnerMedia SVOD.