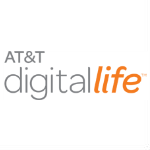 AT&T introduced its version of home security and monitoring, the Digital Life platform. AT&T joins a growing field of broadband service providers who are looking to leverage the home security business. That list now includes Verizon, Comcast, and a host of others, including a number of smaller tier 3 carriers.
AT&T offers many of the same services of its competitors, including home monitoring through IP video cameras, remote locking and unlocking of doors, temperature and lighting control, and a number of additional features. They plan to begin trials of the service in Atlanta and Dallas. In addition to wired technologies, Digital Life also leverages Wi-Fi and Z-Wave. AT&T has not yet announced pricing for the service.
"AT&T Digital Life will change the way people live, work and play — and meets a clear need in the market," said Kevin Petersen, senior vice president, Digital Life, AT&T Mobility.  "The service is smart, simple and customer centric– freeing homeowners to do the things they want to do without compromising on the things they need to do to care for family and home."
Unlike Comcast and Verizon, AT&T is putting much more emphasis on the wireless approach for this service. Comcast and Verizon require a landline broadband connection. With AT&T the landline broadband connection appears to be optional–and AT&T makes a point of saying that the system can work with another carrier's wired broadband connection, which means the offering could easily go nationwide. Verizon also seems to be open to the possibility of using another carrier's broadband connection to support their home monitoring and control offering, but they have been a bit more coy about it.
http://www.youtube.com/watch?v=pHUP8UMAE8Q
AT&T also touts the fact that users can use any wireless or wireline broadband connection to check in on the system and, for example, to change thermostat settings. "…AT&T Digital LifeTM . . . will give users unparalleled control and security of their homes using any web-enabled device, PCs, tablets and smartphones, regardless of wireless carrier," the company said.
The move illustrates an ongoing trend from tier 1 carriers of leveraging broadband and IP to extend their brand and product portfolio to anyone with a broadband connection. It demonstrates the competitive implications of broadband ubiquity.