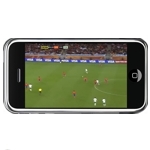 AT&T has upgraded their Mobile Remote Access for iPhone app with a new U-verse Mobile app, which now allows iPhone users to watch DVR recordings on their iPhone.
The new app allows iPhone users to both manage their DVR and download DVR recordings from their iPhone. The download feature will only work via a Wi-Fi connection. "Our U-verse multi-screen promise is now a reality for millions of U-verse TV customers, with content available on U-verse TV, U-verse Online, and today, U-verse Mobile. No cable provider comes close to matching the cross-platform experience we're delivering today, and we'll continue to add unique features that further integrate these screens," said David Christopher, chief marketing officer, AT&T Mobility and Consumer Markets in a press release.
One downside though is all content won't be available – only the content for which AT&T has mobile content rights. According to NewTeeVee, AT&T currently only has mobile rights for PBS Kids, Disney, ABC, ABC Family, ABC News, Disney XD, ESPN, Discovery Channel, Animal Planet, and TLC. I suspect this list will grow over time, but it does present some short term limitations.
The new downloading and viewing of content feature is free of charge, but does require U-verse customers to subscribe to the U300 package, or higher. The new app replaces the 'Mobile Remote Access for iPhone app,' which AT&T reports over 100k people access monthly. The older app only allowed remote DVR management, not downloading of actual DVR content.
This is a smart move for AT&T. They are leveraging all their assets here – U-verse and its DVR offering, the iPhone, and Wi-Fi, for which AT&T offers free access across their Wi-Fi footprint to their wireline broadband customers. It's hard for competitors to replicate this offer, at least for now, potentially providing some real competitive advantage.
These types of services are 'sticky.' Meaning once a subscriber gets all of this set-up and starts using it, they are probably less likely to leave AT&T and have to set it up all over again with another provider. It's not a given though, and AT&T has to be careful not to take that subscriber for granted – they need to ensure they're price competitive and the features are simplistic enough for average consumers to set them up and use. But it's a good example of how a telecompetitior can leverage its assets for differentiation.