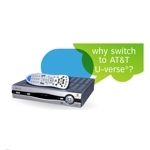 AT&T pushed the whole home DVR feature with U-Verse TV, Total Home DVR as they call it, back in 2008, leveraging it as a clear IPTV differentiated offer over cable competition. Since then, cable competitors, and even DirecTV, have introduced their own version of the compelling feature, dampening AT&T's advantage. With its latest move, AT&T is trying to regain that lead.
With their latest U-Verse DVR enhancements, AT&T "…customers can control, record and play back shows on non-DVR TVs and pause or rewind live TV shows from any room in their home, even when the DVR is connected to a different TV." The enhancement, while subtle, provides a distinct advantage. AT&T uses HomePNA technology to deliver their whole home DVR functionality.
Using underlying MoCA technology, cable whole home DVR solutions ( and Verizon FiOS' version) allow customers to watch and control recoded programs from digital set top box connected TVs in the home, but they can't control the DVR to manage recordings, nor pause or rewind live TV shows. In effect AT&T has turned every TV in a U-verse TV home to an almost fully functional DVR – an important advantage over their competitor's DVR offers. This is one reason you see a move to network based DVR from the likes of Cablevision, although it has many other motivations as well.
"We're taking our award-winning Total Home DVR service one step further to bring customers an even better DVR experience," said Jeff Weber, vice president of video services, AT&T Mobility and Consumer Markets. "Whether it's the number of shows you can record at once, how you program your DVR, or the ability to watch your favorite shows on any TV, online or away from home — we're delivering a better DVR experience, and these new Total Home DVR features are just the latest example."
The move illustrates the highly competitive nature of video and the triple play and how service providers are using features to continually enhance their offer and hopefully build competitive advantage. Whole home DVR is one of the more important weapons in the competitive arsenal – one that AT&T used to great advantage early on – and hopes to continue doing so.