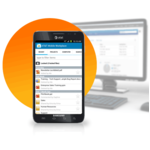 Mobile workers are a growing segment in the small and medium business (SMB) sector and AT&T hopes to capitalize on it with AT&T Mobile Workspace. Most workers from SMBs carry a smartphone or tablet, or both, and increasingly want to be untethered from their desk and their work PC. Giving these mobile workers access to business tools is a hot trend. But will they turn to their wireless carrier to provide it?
AT&T's new AT&T Mobile Workspace is a new cloud based team collaboration suite, which allows mobile workers to "…access, share, edit and create content through their mobile devices." There is nothing revolutionary with AT&T Mobile Workspace. It gives mobile workers the ability to share documents, collaborate, and synch folders, as well as offers some online storage. It's compatible with Apple iOS, Google Android, and MS Windows devices. The service ranges from $6 to $25 per user per month.
There are numerous third party apps that do the same functions from companies like Box, Google, Microsoft, and Zoho, just to name a few. It's a growing business opportunity and AT&T wants in. They provide the connectivity, so why not layer an app across the network to capture this revenue, rather than allowing these other services to get it all?
It's a classic example of a carrier conundrum these days. Are they satisfied with monetizing their network connectivity alone, or do they get into the app business themselves to grow revenue opportunities? Do you only stick to what you do very well – network connectivity — or do you try to get in on some of the action offered by Box, Microsoft, Google and others?
Mobile Workspace is but one of many solutions provided by AT&T targeting the SMB and Enterprise sectors. Other carriers follow similar strategies. The name of the game for carriers these days is avoid the "dumb pipe" label, and layer on as many apps as possible to expand revenue beyond connectivity alone. The marketplace is the ultimate decider of success or failure with these strategies.
Will enough end customers turn to the carriers for these services, or will they determine that they are better served by traditional software and app developers, which they access through AT&T's mobile broadband pipe? Is there enough room for both approaches?