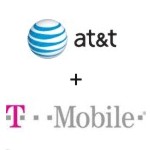 At least opponents of AT&T's proposed purchase of T-Mobile have a sense of humor about it. An anti-acquisition coalition calling itself the No Takeover Project has launched a web site in support of its position that prominently features a burly guy with a cigar in a pink polka dot dress, a la T-Mobile's latest spokes-model. 
The web page offers four bullet points explaining "why the AT&T takeover doesn't make sense"– arguing, for example, that if the takeover is allowed, AT&T and Verizon would have more than four-and-a-half times the market share of the next biggest competitor. This, in turn, would put "smaller and regional carriers at the mercy of the duopolists," the site says.
Logos of apparent coalition members appear at the bottom of the home page, including the Rural Cellular Association and the Rural Telecommunications Group, as well as public interest groups such as Public Knowledge, New America Foundation, Media Access Project, and the Center for Media Justice. There is also a note indicating that the site was developed with "the support of Sprint."
The site aims to make it easier for anyone who might agree with its point of view to submit comments via a link to the FCC or to send a Twitter or email message to Congress.
"It is rigorous competition, not a marketplace dominated by a duopoly, that drives companies to use their technological expertise to improve and advance their service," a sample email to Congress states.