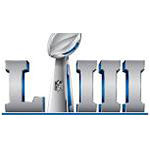 Though the Super Bowl Sunday at Mercedes-Benz Stadium in Atlanta was a bit short on excitement, it did set records for mobile data traffic. AT&T said that users on its network consumed 11.5 Terabytes of data in and around the stadium on game day. That, the carrier said, was not only a Super Bowl mobile data traffic record, but a record for any championship sporting event or football game.
The two-mile radius around the stadium saw more than double the traffic, with 23.5TB of data usage.
Super Bowl Mobile Data Traffic
AT&T released a number of other statistics from the game:
Data traffic alone was up 172% compared to the average pro football game nationwide in 2018.
At half-time alone, more than 237 gigabytes (GB) of data crossed AT&T's network within 15 minutes— making it the most-shared moment of the game.
Fans used more than 58 TB of mobile data within a two-mile radius of game-related events between January 26 and February 3 in Atlanta.
AT&T also highlighted how it handled the demand during the season:
Throughout the 2018 season, the carrier upgraded its Distributed Antenna System (DAS) in Atlanta to provide 300% more LTE capacity.
AT&T upgraded or installed new DASes at 30 additional locations near heavily trafficked places such as hotels, airports and convention centers.
AT&T deployed five Cell on Light Trucks (COLTs), which equal eight traditional cell sites.
AT&T enhanced or built 103 new permanent sites near heavily trafficked places like hotels, airports and convention centers. According to the company, these enhancements will continue to benefit Atlanta residents, businesses, visitors, and first responders well after the big weekend.
The top five NFL stadiums during the year were in Houston (47.2 TB of data used); Dallas (40 TB), Miami (24.8 TB), Kansas City (19.1 TB) and San Francisco (17.7 TB), AT&T said.
There are two types of events that require a huge increase in access from a particular location: Those that are planned and emergencies. They are quite different but some of the same equipment can be used for both.  AT&T used one of those tools – cell on wings (COWs) – during the Hurricane Maria emergency in Puerto Rico in late 2017.