At an industry analyst meeting held last week in Dallas, an AT&T strategy of disruption of its own business was a key theme throughout. "We are setting out to disrupt ourselves," said AT&T vice chairman Ralph de la Vega in his opening comments to the audience of industry analysts at the company's Dallas headquarters.
That disruptive tone highlights an AT&T strategy of leveraging its vast network assets and global scale to enable and monetize emerging business models. Some of the more promising lines of business AT&T hopes to disrupt themselves with include IoT, network virtualization, entertainment/OTT, and network security among others.
This disruption strategy is no trivial task, considering AT&T also has a vast 'legacy' culture to contend with, which offers a deep portfolio of legacy products that still generate a lot of revenue and profits.
From a C-level executive standpoint though, AT&T does appear to have significant focus and understands that disruption of the traditional telecom and broadband business is already well underway. They aim to steer the technology conglomerate in the right 'disruptive' direction.
In this Telecompetitor series, I'll offer insight into this evolving AT&T strategy, gained from this recent AT&T analyst event. Part I focuses on entertainment and OTT.
Entertainment and OTT
AT&T's Entertainment Group, led by John Stankey, is now responsible for all consumer facing businesses, including entertainment, mobile and broadband. At its core, broadband is mostly an enabler of entertainment services. That obviously includes video, but not exclusively. It includes gaming, social media, and a variety of other consumer activities.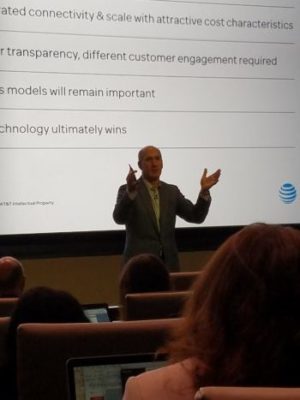 "We're taking three Fortune 100 entities, the DIRECTV company, the AT&T wireless entity, and the legacy AT&T Internet and entertainment business, and bringing it all together under one," said Stankey in his remarks.
The thinking, in part, behind this strategy of combining these three distinct business units into a single group, under a single leader, appears to be to leverage what AT&T sees as the greatest opportunity for the consumer segment.
That is, the integration of entertainment into a seamless mobile and broadband experience, where customers access their entertainment content on any device, enabled by AT&T's mobile and broadband networks. It's executing on the vision we've heard so much about in the past five years or so – content on any device, anytime, and any place.
AT&T's acquisition of DIRECTV makes them the largest player in pay-TV, and combined with their mobile assets, AT&T is aiming to create a unique and differentiated entertainment experience – one they hope their competitors struggle to match.
"I know we will have been successful in doing what we do when I wake up one morning and Comcast decides they need to buy a mobile company," commented Stankey.
Zero Rating of Video Content on Mobile
Early tactics to achieve this strategy include 'zero rating' the consumption of DIRECTV content (through their TV Everywhere app), so it doesn't count against monthly broadband caps on the AT&T wireless network for customers who subscribe to both DIRECTV and AT&T Wireless. If you're a customer of both, watch as much video as you want, and don't worry about your monthly data allowance.
AT&T strategy includes leveraging exclusive DIRECTV content like NFL Sunday Ticket. AT&T CEO Randall Stephenson highlighted the growth of NFL Sunday Ticket mobile streaming, citing growth of 60% in mobile streams between week one and two of the NFL season. This entertainment strategy has Stephenson's attention.
In his remarks at the event, Stephenson repeatedly highlighted an AT&T strategy of giving consumer's access to content across all their devices, while only making them pay for it once. "Consumers have said, I'm tired of paying for my content multiple times," he noted.
AT&T intends to continue down this path where their customers who subscribe to both wireless and DIRECTV, gain access to content on all their mobile devices without having it count against wireless caps, or involve multiple pay subscriptions. "We think that's powerful," said Stephenson.
Of course this zero rating approach is subject to scrutiny by the FCC under the guise of net neutrality. There is some risk that the FCC may negatively impact this perceived AT&T advantage.
DIRECTV Now
This approach will soon broaden with the introduction of DIRECTV Now, AT&T's forthcoming OTT video service, which is scheduled to launch nationwide by the end of the year. AT&T says the service will offer 100+ channels of premium content, including VOD, all delivered over-the-top to any customer via broadband, fixed or mobile. It will compete with growing OTT subscription options, including Sling TV, Sony's PlayStation Vue, and a new upcoming service from Hulu.
The introduction of OTT and the disruptive nature it creates is not limited to DIRECTV Now. In fact, technically speaking, AT&T will launch three distinct OTT video solutions. In addition to DIRECTV Now, there is fullscreen , a millennial targeted OTT service, in line with competitor offers like go90 from Verizon and Watchable from Comcast.
A 'freeview' version of DIRECTV will also be made available, offering ad-supported content and free previews of DIRECTV premium content. The goal with Freeview is to use it as a tool to upsell traditional DIRECTV and the DIRECTV Now OTT service.
Introduction of these OTT services by the largest traditional pay-TV provider could be viewed as 'disruptive' and even risky. What about cannibalization of traditional DIRECTV customers?
"A common denominator in our industry is when you launch a new product and internally, if the greatest fear is cannibalization, that is your greatest concern, you know you're onto something," said Stephenson. "That's a good sign."
Let the disruption proceed.
Read Part II of this series.