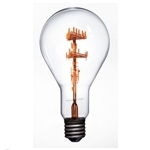 We've documented the ongoing push by telecom carriers to leverage the SmartGrid opportunity. The latest news is AT&T is partnering with Current, a Germantown, Maryland based provider of SmartGrid solutions.
Under the partnership agreement, AT&T will offer Current SmartGrid solutions to utility customers. "Our new relationship with CURRENT will help utilities move from their traditional distribution infrastructure into a truly smart grid model that provides centralized real-time data collection and analysis – without touching the end customer and without relying on meters," said Michael Antieri, President, Advanced Enterprise Mobility Solutions, AT&T Business Solutions. "We continue to focus on broadening our capabilities with smart grid technology, helping businesses and organizations to use wireless technology to streamline their processes and provide real-time monitoring of energy assets."
Among other smart grid opportunities, AT&T is interested in leveraging its wireless facilities for machine-to-machine (M2M) connectivity. Verizon is making smart grid moves as well, including recently partnering with the UTC for a major smart grid study.
By partnering with Current, AT&T hopes to offer an integrated smart grid solution. They intend to combine Current's smart grid sensor and software solutions with their network management and wireless network connectivity. AT&T says the joint venture solution is available immediately throughout North America.