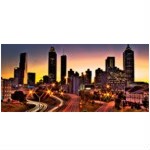 Smart Cities Structure Monitoring will join a growing AT&T smart cities portfolio of IoT infused products. The new service aims to increase safety by finding and alerting officials of dangerous infrastructure.
The carrier notes that much infrastructure in the United States is old – more than half of bridges are at least a half-century old, for instance — and in disrepair. This infrastructure often is in remote locations and much monitoring technology is old, bulky and not appropriate for use over time.
This makes the IoT a good candidate in efforts to ensure that this infrastructure is monitored, helping to prevent dangerous breakdowns. "Safety is a top concern of citizens and cities alike. This concern extends beyond the realm of crime and natural disasters. It also includes the safety of our infrastructure," said Mike Zeto, general manager, AT&T Smart Cities, in a press release. "We're pleased to test this solution, which will allow for smart infrastructure analysis and monitoring.
AT&T Smart Cities Portfolio
AT&T Smart Cities Structure Monitoring is an LTE-enabled platform that will monitor attributes such as cracks and tilts. It features alert triggers and email alerts. Other elements are aimed at digital infrastructure, smart irrigation, smart city operations and smart grid offerings focusing on solar energy and energy prepayment.
The AT&T infrastructure monitoring offering uses AT&T LTE-enabled sensors to remotely monitor structural factors such as cracks and tilts. The platform also features alert triggers and email alerts to capture significant events, according to a press release.
The infrastructure project is best seen as one element of a growing AT&T smart cities portfolio of products. The press release highlights progress in AT&T spotlight cities of Atlanta; Dallas; Montgomery County, MD and Mexico City.
In Atlanta, for example, AT&T Digital Infrastructure and Current, part of GE's CityIQ, are helping transform the city's utility existing lighting infrastructure into a data network driven by sensors. So far, 200 sensors have been installed. These enable better traffic flow and parking optimization and gunshot detection functions. Separately, The Smart Corridor project uses the infrastructure to improve the city's road safety.