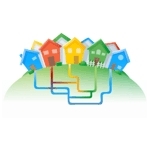 AT&T took to the blogosphere this week and expressed a bit of glee regarding speculation about a Google Fiber slowdown and other perceived missteps in broadband applications. Google Fiber is rumored to be in some trouble, and may be recalibrating their approach to the FTTP project.
In a blog post, AT&T takes a somewhat paternal tone, suggesting Google Fiber has gotten in over its head, despite very favorable government and industry support.
"Google Fiber has deployed a fiber network in parts of seven out of the 1100 interested cities, but otherwise hits the pause button as Google Fiber learns something we've known for over a hundred years – deploying communications networks is hard and takes an enormous amount of time, money and skilled labor," writes Joan Marsh, AT&T Vice President of Federal Regulatory in the blog post.
Marsh highlights many Google "attempts" at broadband, including a few forays into wireless, which by her account, have failed to produce any significant results.
What a Difference a Year Makes
There is considerable speculation regarding the future of Google Fiber, ranging from a possible shift away from FTTH to fixed wireless, to a significant stoppage of the project with over half the current staff losing their jobs.
This speculation is a far cry from Google Fiber's posture over the past year, which has been witness to a flurry of announcements regarding potential expansion. Many of these cities identified as potential expansion markets are now on hold.
Overbuilding with FTTP is not only hugely capital intensive and time consuming, but for a company like Google, also a 'royal pain in the butt.' Google is not used to dealing with consumers on that type of level, nor with the intricacies of building and operating a fiber based broadband and video service. AT&T is right in one regard– it's not for the faint of heart.
"Building reliable, ubiquitous high-speed broadband connectivity is tough," writes Marsh. "It takes an enormous commitment of capital and resources and a highly-skilled and capable work force."
Of course all of this is speculation. We're not entirely sure where Google Fiber is headed. We may just be witnessing a true recalibration, with a renewed focus to come. Perhaps with a hybrid approach.
But for the time being, AT&T seems to be enjoying the moment.
"Welcome to the broadband network business, Google Fiber," writes Marsh. "We'll be watching your next move from our rear view mirror. Oh, and pardon our dust."