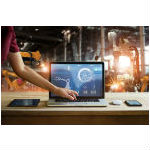 AT&T Business, Samsung Austin Semiconductor and Samsung Electronics America have announced the industrial 5G use cases that they are working on within the 5G Innovation Zone, which was announced last year. The 5G Innovation Zone is housed at Samsung Austin Semiconductor.
"The 5G Innovation Zone showcases the power of 5G technology to unlock greater efficiencies and higher performance in the manufacturing industry," Mark Louison, the Senior Vice President and General Manager of Samsung Electronics America's Networks Division, said in a press release. "These use cases will help us determine how 5G can bring high impact innovations to manufacturing and help pave the way for the smart factories of the future."
AT&T outlined three of the applications that are being tested. They include:
Demonstrating how 5G and sensors could help first responders better locate employees and speed up response time in an emergency situation. Keeping employees safe at work is a top priority for manufacturing companies. In an emergency situation, 5G's capacity and reliability can be used to communicate an injured person's vitals such as heart rate, blood pressure, and temperature directly to first responders during the critical first hour, which can result in faster, more efficient care.
Demonstrating how 5G, 4K live video and IoT sensor data better supports the factory automation process. Advanced manufacturing facilities use automated processes and robotic equipment throughout their production process. 5G can enable large-scale, near real-time monitoring and proactive maintenance of factory automation equipment, helping to improve production. An Automated Material Handling System equipped with IoT sensors and 4K wireless cameras will demonstrate remote monitoring of factory automation equipment. With 5G, this type of automation could be equipped with a full suite of devices to collect important data on acceleration, position, temperature, humidity, and gas flow rates.
Demonstrating how 5G and mixed reality can be used to train employees. 5G has the potential to educate. Mixed reality technology — using tools such as wireless Augmented Reality (AR) glasses along with low latency content delivery from the edge – can provide an untethered method to virtually train hundreds of employees, providing immersive and immediate access to equipment diagnostics, as well as directions for repairs.
The facility leverages 5G, LTE and WiFi. 5G will increase data collection from the many machines on site, according to the press release, improve flexibility by enabling a transition from wires to the air and make it possible to process data in near real time. The reduced latency will be pivotal to improved efficiency and performance on the production floor and anticipating issues instead of reacting to them. Safety also would be bolstered by getting data to emergency workers quicker.
Carriers and their ecosystems are working hard to develop 5G use cases. The reality is that while the new air interface will offer advantages, it will take creativity to prove value beyond LTE's significant and still growing capabilities. Last month, AT&T and LiveU, a developer of cellular equipment for high-quality video uses, said they will work together. The two will test 5G live streaming and explore 5G's impact on live broadcast video production.