The disaggregated network approach that AT&T has adopted has helped the company roll out 5G and fiber more quickly than before, said AT&T Vice President of Network Core Infrastructure Service Mike Satterlee in a blog post.
More than half of all the production traffic carried by AT&T is flowing through open and disaggregated core routers, and the carrier plans to accelerate the amount of data that these updated networks carry even further, Satterlee said.
Disaggregation is the separation of network hardware and software. AT&T's initiative is deeply related to the ongoing transition from proprietary to open software, an evolution that aims to reduce costs, increase efficiency and stimulate vendor and carrier creativity.
AT&T's new core routers, which are carrying 52% of production traffic, are based on Broadcom Jericho2, Ramon chips and use the Distributed Dis-Aggregated Chassis (DDC) design powered by DriveNets Network Cloud DNOS software. The next steps are to scale the network to 500 Tbps and 900 Tbps via next-generation chipsets.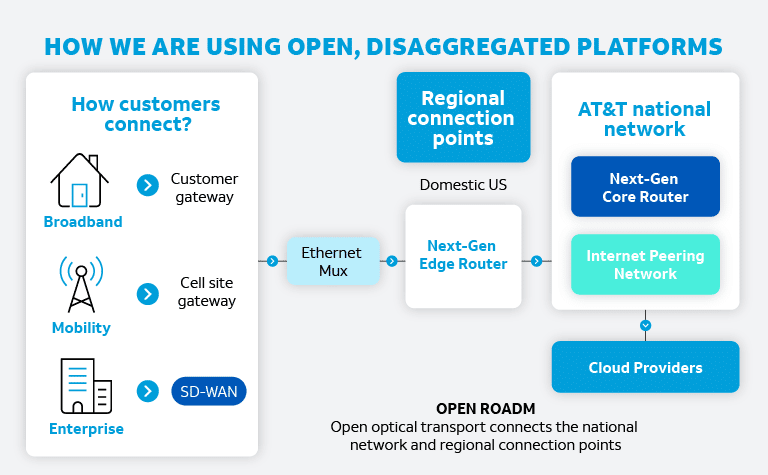 In addition to supporting faster network rollouts, the disaggregated approach reduces the cost to manage network traffic and enables faster deployment of new services, according to the blog post. Another benefit is a reduction in the cost to manage network traffic, which has reached more than 594 petabytes per day globally.
Other highlights from the carrier:
Next-Gen Edge Router: This platform supports enterprise services, Ethernet, broadband, mobility, and Internet gateway. Vendors include Broadcom, Cisco and UfiSpace hardware. The platform is now deployed in AT&T's production Internet peering network.
Cell Site Gateway Router: It supports up to 100 Gbps mobility transport using hardware from UfiSpace and Broadcom Qumran-AX chips, coupled with Vyatta NOS software from Ciena. It has been deployed in the mobility network.
Ethernet Mux: This enables aggregation of 1 and 10 Gig access ports to the 100 Gig transport. It is based on Broadcom's Qumran-MX chips and uses EdgeCore hardware with Ciena's SAOS network OS software. It is live on AT&T's Metro Ethernet and fiber footprint.
Universal consumer premise equipment (CPE): This broadband customer premise equipment today now provides high speed dedicated Internet and enterprise software-defined-wide area network (SD-WAN). It is based on technology from Intel, Broadcom, Marvell and Silicom and uses Vyatta NOS software from Ciena.
Open Reconfigurable optical add-drop multiplexer (ROADM): This element provides the high-speed and high-capacity optical transport supporting fiber-based broadband and 5G backhaul. It uses Open ROADM-compliant components developed by Ciena, Cisco, Fujitsu, Infinera and Nokia. AT&T has installed more than 75 nodes and turned up 100G and 400G wavelengths in the production network.
Previous AT&T announcements involving network disaggregation include peering at the network edge and a disaggregated core router.