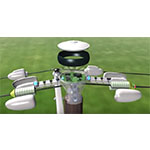 AT&T plans to test 5G in combination with the AirGig fixed broadband technology that the carrier developed in house. The 5G AirGig plans came to light in an AT&T policy paper in which the carrier also said it had "initiated discussions with technology suppliers" about testing and building commercial-grade AirGig equipment.
AT&T has been testing its AirGig technology to provide gigabit broadband connectivity for several years. The technology is designed for deployment on powerline infrastructure but is considerably different from the broadband powerline technology that failed to find commercial success a decade or so ago. AirGig uses the power lines as a waveguide to restrict how much waves can expand over distance, thereby minimizing energy loss.
The company has used this approach in millimeter-wave spectrum bands to overcome a drawback to using that spectrum for broadband. When deployed in a typical wireless configuration, equipment operating in the millimeter-wave spectrum has limited range in comparison with equipment operating in other spectrum bands. Using broadband powerline infrastructure as a waveguide helps extend the distance that millimeter-wave signals can travel, according to AT&T.
The carrier has also used the term "surface wave" to describe its approach to using powerline technology.
5G AirGig Synergies
AT&T's initial 5G deployments also are in the millimeter wave band, so perhaps it's not surprising that the company is exploring the combination of 5G and AirGig.
"With 5G around the corner, timing couldn't be better," wrote AT&T in the policy paper. "We think Project AirGig and 5G have a lot of natural synergies, and we plan to test 5G paired with AirGig in the future."
The company didn't specify what role each of the technologies would play in the testing, but perhaps the goal would be to use AirGig as backhaul for 5G service.
Previously the company has said that it wants to evolve its entire network to support gigabit service and has said that it anticipates getting there using AirGig in some cases, while 5G or G.fast would be used in other cases.
AT&T's policy paper stops short of providing a launch date for commercial AirGig service, but according to the policy paper "we're moving closer to that moment every day." The paper also notes that the company has more field trials with "our technology supplier" planned for this year.