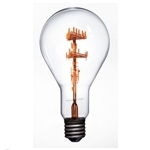 AT&T appears to have put a lot of thought into its announcement today about a new partnership with Digi International involving the smart grid—perhaps an indication of how seriously the carrier is taking the smart grid opportunity.
According to today's announcement, AT&T currently enables two-way communications for more than 13 million electric meters on its wireless network. Through its new strategic relationship with Digi, AT&T will be offering Digi X-Grid Solutions, a suite of products and services designed to bring connectivity to energy-oriented devices in homes and businesses. In addition, utilities and software providers that develop offerings for the smart grid industry will be able to use Digi X-Grid Solutions, the partners said.
"Digi X-Grid Solutions, powered by AT&T's wireless network, move beyond the smart meter to provide innovative applications and devices for real-time insight into power consumption," said Chris Hill, vice president of Advanced Mobility Solutions for AT&T Business Solutions, in today's announcement. "These services can help both utilities and their customers use energy more efficiently."
AT&T will be able to support an array of smart grid applications including remotely controllable thermostats, load control and smart appliances.
To support remote thermostat monitoring and control, customers will download Digi's Energy DayTrader mobile application for free as part of Digi X-Grid Solutions for use with a Digi Gateway.
Load control, also enabled by using Digi X-Grid Solutions, is the term given to an application in which consumers give their utility company permission to remotely turn off discretionary devices such as pool heaters during times of peak consumption, thereby receiving credits and savings on their bills.
Smart appliances are enabled through Digi X-Grid Solutions' "smart plugs", which enable customers to monitor and control individual appliance energy usage with the Digi Energy Daytrader application. Appliances that can be controlled in this manner include everything from "lamps to refrigerators to air conditioning units," AT&T says. The application also provides automatic alerts when overall consumption levels are higher than normal.
"Digi is a leader in providing energy efficient services to consumers and business owners by delivering an open platform for device connectivity," said Larry Kraft, senior vice president of global marketing and sales for Digi International. "Fueled by the strength of AT&T's network services, Digi X-Grid Solutions help consumers make eco-friendly and cost-effective energy decisions and allow energy providers to improve the performance, load management and demand response capabilities of their Smart Grids."
To support the new launch, AT&T has created a web site with a wide range of information about the smart grid. For example, interested parties can find research commissioned by AT&T about consumer attitudes toward the smart grid. That research reveals that although consumers have privacy concerns about the smart grid, they were most comfortable with local power utilities (mentioned by 59% of respondents) or telecom and wireless companies (cited by 57%) having access to billing and energy use records. They had the lowest level of trust in Internet service companies or the federal government having such access.
AT&T apparently hopes the new Digi partnership will help attract more utility companies to use the carrier's wireless network for smart grid connectivity, as the new web site also includes a section that specifically targets utility companies.
In that section, AT&T outlines benefits for CIOs and IT managers, vice presidents of field service and distribution automation, and field technicians. For CIOs and IT managers, AT&T notes, for example, that it can free up capital by minimizing the expense required to build out proprietary networks, and provide a wide range of security features designed to enhance privacy and confidentiality. For the field service and distribution automation VPs, AT&T lists benefits such as increasing the number of work orders completed per field technician per day and improving regulatory compliance. As for field technicians, AT&T touts the ability of its wireless network to help eliminate travel to the office, and help technicians make more informed decisions while in the field.
Some people argue that it will be challenging for telcos to persuade utility companies to use their networks for the smart grid. But AT&T seems to be making all the right moves to maximize its smart grid opportunities with the nation's electric power companies.