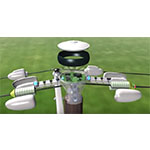 AT&T AirGig millimeter wave broadband technology provides better propagation than traditional point-to-point wireless options because it uses wave guide technology, said Bill Hogg, president of technology operations at AT&T, today. Developed by AT&T, AirGig is designed to be deployed on the same pole infrastructure as electrical power lines but operates using millimeter waves.
"It doesn't actually use the conductor of the powerline itself," Hogg said. "The wave is launched as a millimeter wave on the powerline as a wave guide."
AirGig is designed to support multi-gigabit speeds. AT&T has applied for or received 200 patents related to the technology, Hogg said.
Hogg's comments today provided a brief glimpse under the hood at how the technology announced last year works.
AirGig Update
A wave guide is a structure that restricts how much waves can expand over distance, thereby minimizing energy loss. According to Hogg, AT&T AirGig "takes existing powerlines and uses them as a wave guide for millimeter wave."
Propagation or the distance signals can travel, is much better than if "you just had millimeter wave antennas pointed at each other," he noted.
"It's a great alternative to stringing up fiber, especially in rural areas where you have long runs," he commented. "These are great opportunities to leverage the physical infrastructure that's already been deployed."
AT&T anticipates using AirGig to provide "fronthaul and backhaul instead of deploying fiber" for small cells, Hogg said. AT&T also envisions "using small cells as a drop to the house in a fixed wireless capability."
AirGig also has the potential to detect changes in sensitivity that could indicate line breaks or when branches are lying on a powerline – a capability that could be valuable to power companies, according to Hogg. The technology also may be able to support wireless meter reading for the power companies, he said.
Hogg reiterated AT&T's previously announced plan to conduct two trials of the technology this year.
He made his comments at the Jefferies 2017 Global Technology Conference which was also webcast.