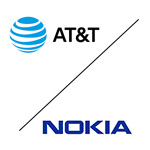 AT&T and Nokia are working together to drive IoT connectivity worldwide. A new announced AT&T Nokia IoT partnership will provide AT&T enterprise customers with products and services offered by Nokia's Worldwide IoT Network Grid (WING).
WING offers core network, dedicated IoT operations, billing, security, data analytics and other assets. "Our work with Nokia WING will help clear away the complexity of large-scale IoT adoption so that our customers can unlock the potential of IoT worldwide," Chris Penrose, the President of AT&T's Internet of Things Solutions, said in a press release. "Boosted by Nokia's globally deployed 'one-stop shop' network technology, we can be more nimble and responsive to our customers' needs."
AT&T Nokia IoT Partnership
The partnership will begin developing, testing and launching IoT offerings this year. Offerings will be available in more than 20 countries in Europe, Asia, North America, South America and the Middle East by the first quarter of 2020. The partners will target a number of industries, including transportation, health, manufacturing, retail, agriculture, utilities, consumer electronics and smart cities. The initiative will "help set the stage for the evolution to global 5G," according to the companies.
More specifically, the partnership will:
Address specific business requirements through capabilities like 5G network slicing that allows a single network to be partitioned into multiple networks.
Meet local regulatory requirements for IoT devices.
This is not the only IoT partnership in which AT&T is involved. In February, the carrier and Ericsson said that they are teaming on IoT device certification. The collaboration includes testing, verification and "white glove" assistance with regulatory approval process. The program is available in more than 150 countries.
Early last year, AT&T said that Carrier, one of the world's largest appliance and equipment manufacturers, will build AT&T's IoT functionality into its heating, ventilation and cooling (HVAC) product line.